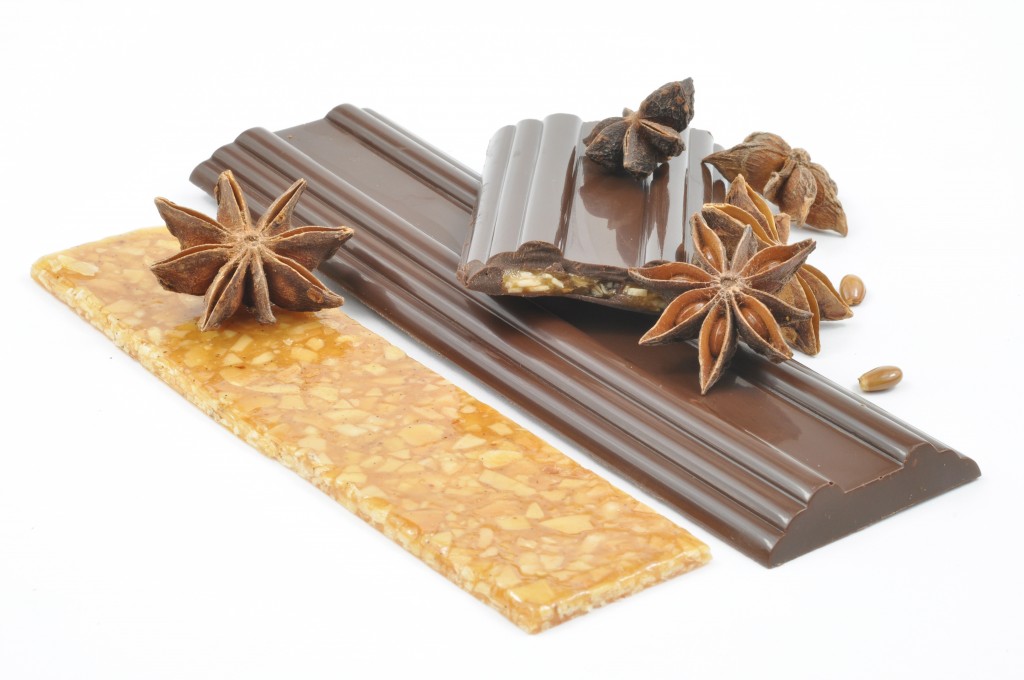 Star anise nougatine enrobed in chocolate certainly belongs to a selection of finer style Belgian chocolates.  Too bad that chocolates made with nougatine can be rather difficult to find, unquestionably it is a product which requires attention to detail. Since the confection featured here does not contain a cream, ganache or other typical filling, it is not a true "Praline" or "Belgian style chocolate". Essentially it is a chocolate bar which contains a sheet of nougatine.  Delicious nevertheless and it has the enormous benefit of having long shelf life.
The nougatine recipe below is made without corn syrup or glucose. Although more affected by humidity, it does provide an incomparable caramel flavor. In "On Baking" a recipe for nougatine (pg 734) can be found using only glucose and fondant. Such combination is excellent for use in showpieces or for pieces which require long conservation or when working in a humid environment.
When using star anise in nougatine it is important to use invert sugar, without it the nougatine can quickly crystallize when the star anise is added, turning it into a disappointing result.  Remember that nougatine requires cooking the sugar to a perfect caramel and adding flawlessly toasted almonds. Dairy or cocoa butter is added at the end. Dairy butter provides the best flavor but cocoa butter works best in high humidity kitchens.  For further tips and ideas on nougatine you may want to read another article on nougatine on my site.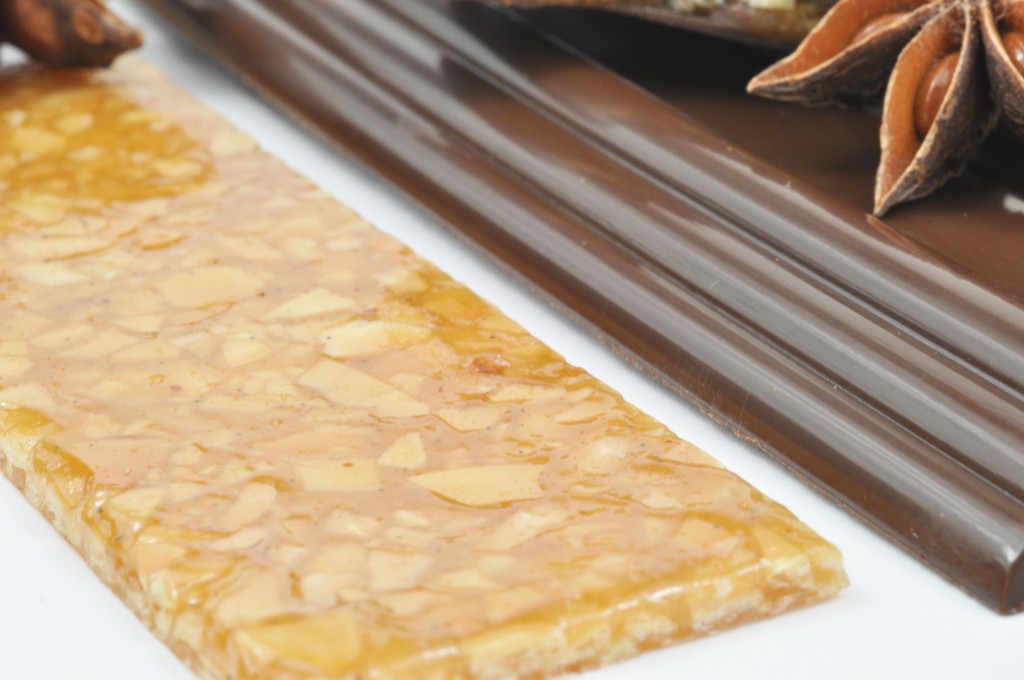 Star Anise Nougatine
| | | | |
| --- | --- | --- | --- |
| | 2 oz | Invert sugar | 60 g |
| | 9 oz | Extra fine granulated sugar | 270 g |
| | 4 oz | Toasted almonds | 120 g |
| | 1 tsp | Star anise, ground | 2 g |
| | | | |
| | ¾ | Unsalted butter | 20 g |
| | pinch | Fleur de sel | pinch |
Set aside a silpat and a rolling pin. If using a wooden rolling pin, butter it lightly. Not necessary if using a silicone rolling pin. Preheat the oven to 300°F (150°C)
In a saucepan bring the invert sugar to a boil, add a few tablespoons of the listed sugar and stir to melt the sugar (Do not allow to caramelize at this point). Add a few more tablespoons of sugar and stir until melted again. Continue with slowly adding larger amounts of sugar. Do not vigorously stir at any point.
Cook to a golden caramel stirring gently. Remove from heat, immediately add the toasted almonds, star anise, butter and fleur de sel. Stir to combine with a heat resistant or wooden spatula.
Scrape the nougatine onto the silpat. Let sit for a few moments and then start gently rolling the nougatine into a thin sheet about the thickness of 3 stacked credit cards.
If the nougatine hardens before it is sufficiently thin, keep it on the silpat and place it in the oven to slowly soften. Press with a finger to check if it is soft enough and then roll once more.
Cut into shapes which will fit your chocolate molds and allow to cool.
Pour tempered chocolate into molds, allow the chocolate to nearly set, place a piece of nougatine in the mold.
Cover with chocolate and remove excess. Remove when chocolate has retracted from mold.