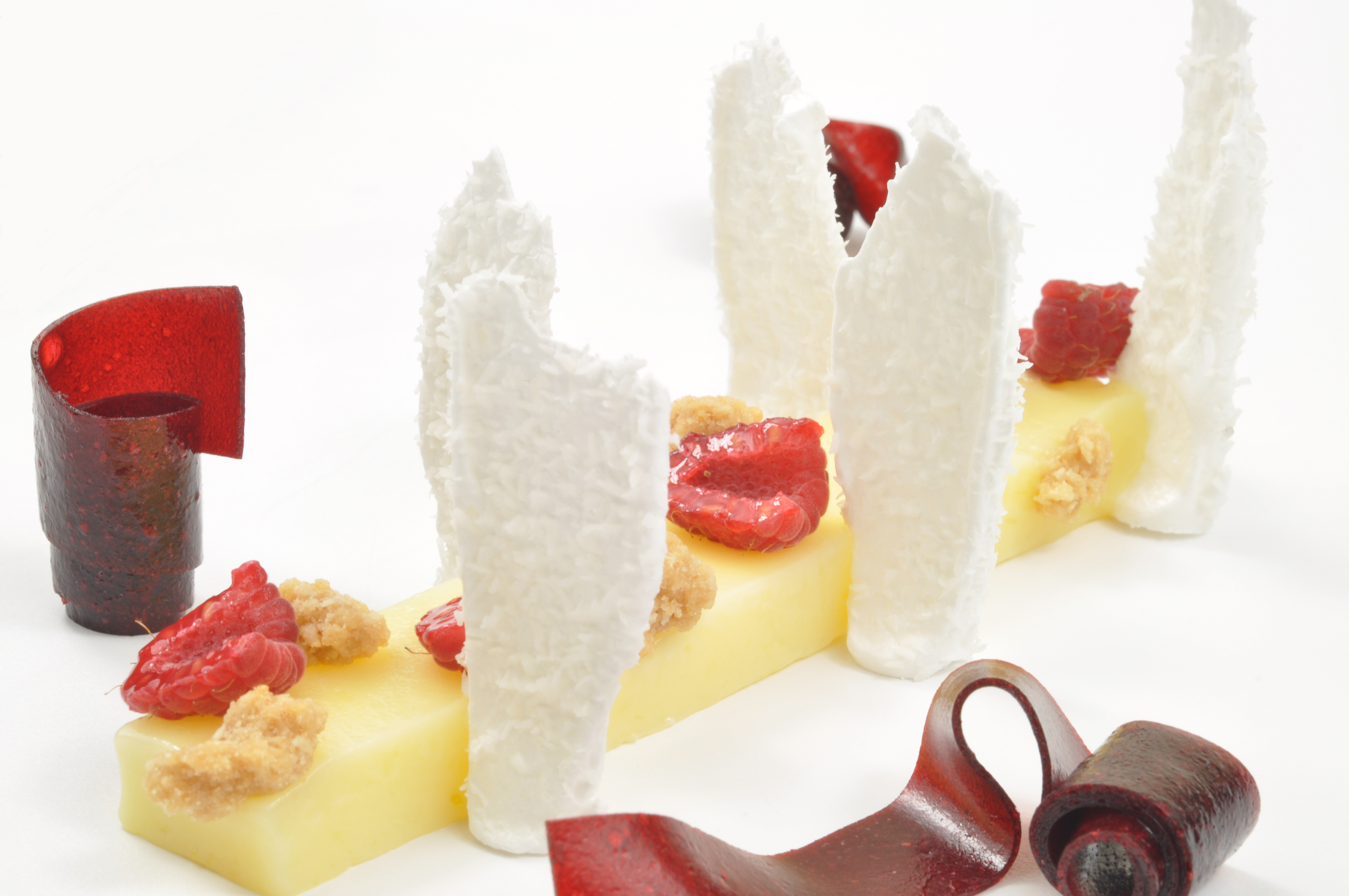 Lemon, lime or passion fruit curd can easily be turned into delicious desserts which are much appreciated by our customers. Curds made over Bain Marie can be a lengthy process which oftentimes keeps us from making it. The good news is that this formula allows for quick results with unsurpassed smoothness.
Use it for sandwiching petit four, serve with scones, filling for tarts or as shown here as a plated dessert.
Assembly:
Prepare curd and pour in frame. Set in refrigerator for one hour and then place in freezer until solid.
Prepare meringue and streusel.
Cut frozen curd quickly into desired size. Place on plate. Allow for defrosting, about 5 minutes.
Decorate with baked meringue, streusel, berries etc.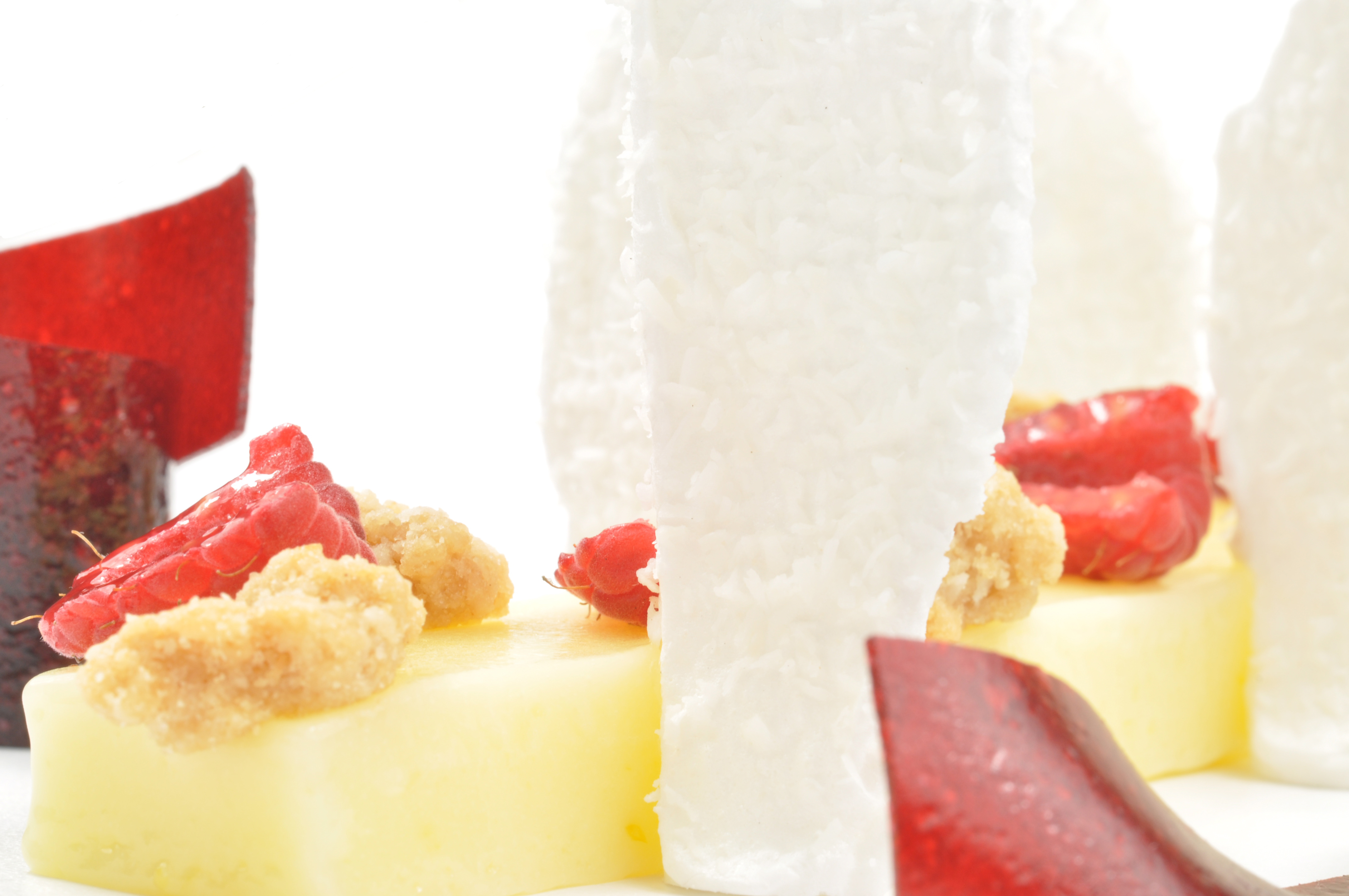 Quick Lime Curd | Quick lemon curd
This recipe is from On Baking (Named in Europe the best professional book of the world) published with permission from Pearson Prentice Hall
Yield: 1 lb 4 oz (619 g)
| | | | |
| --- | --- | --- | --- |
| | | | |
| | 4 oz | Lime or lemon juice | 120 g |
| | 6.5 oz | Extra fine granulated sugar | 195 g |
| | 0.14 oz | zest | 4 g |
| | 4 oz | Eggs | 120 g |
| | 6 oz | Unsalted butter*, very soft | 180 g |
| | | | |
| | | | |
To use curd as shown in picture use a square frame with approximate size of 9 x 9 inch (23 x 23 cm). Wrap plastic food wrap tightly around frame to create a bottom. Set aside on a baking sheet.
Curd will set properly when made as indicated. Adding one sheet of bloomed gelatin (after cooking process) or one extra egg white (along with whole eggs) may be helpful for plating purpose as this will provide a slightly firmer set.
Bring citrus juice with half of sugar to a boil.
Meanwhile in a bowl whisk eggs with remaining sugar until well combined but not mixed to a thick ribbon.
Temper the egg mixture with a third of boiling above. Pour the tempered mixture into boiling juice and whisk vigorously until boiling and thickened, about a minute. (For large batches increase the boiling time)
Remove from heat and cool on an ice bath to 120°F (50°C)
Add the butter in increments, stirring well with a spatula or add the butter using an immersion blender.
Pour immediately into frame or use in glasses, tart shells etc.
*use high quality butter (82% butterfat) for best results.
French Style Meringue
On Baking 3, page 410.
Prepare meringue and pipe 1 inch (3 cm) long tubes with a small pastry tip.
Using a spoon or small pastry spatula flatten the tube to create an organic shape.
Sprinkle with unsweetened coconut if desired.
Bake at 225°F (110°C) for about 45 minutes or until crisp. Keep from humidity.