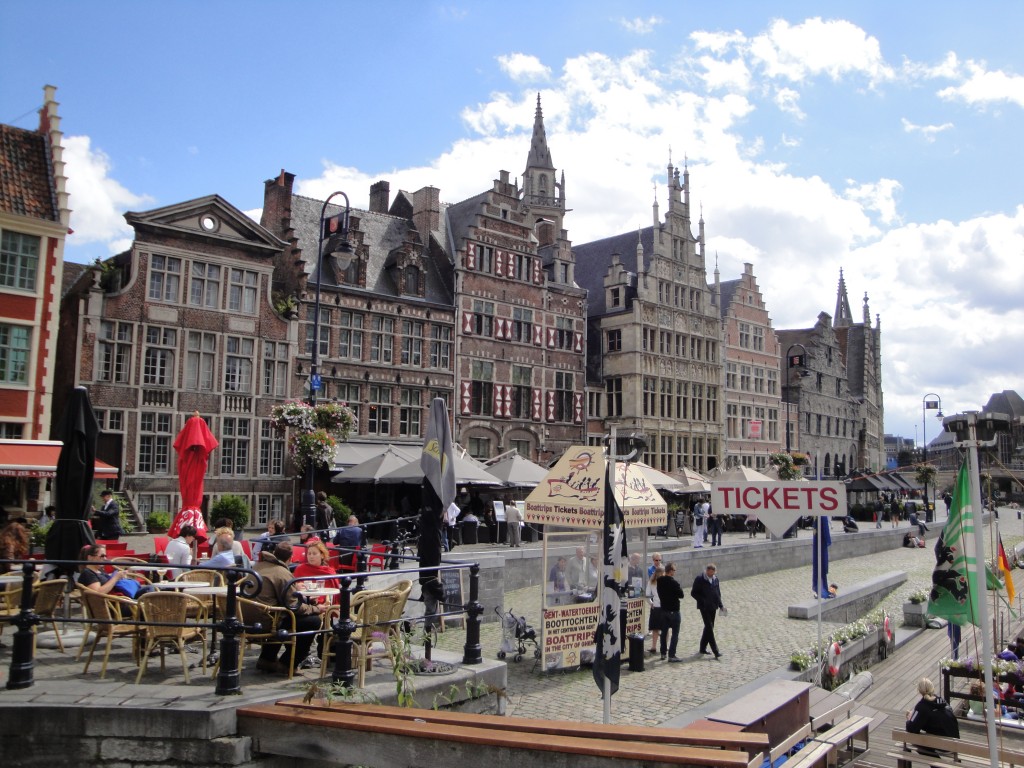 Ghent, place of my birth.
With thousands of you visiting chefeddy.com on a daily basis I thought it may be a good idea sharing something more than another recipe. After all, being in the food industry may spark an interest in visiting Belgium some day. Ghent Belgium is rated # 3 on National Geographic's Travelers list of beautiful historic places. Ghent is nestled between Brussels and Bruges, about a good 40 minute drive either way. Many tourists only visit the named above, too bad for them, as the Historic center of Ghent boasts a complete different type of "feel" and architecture than that of Brussels. It is a must see indeed. The historic center is car free thus you walk along the people who live and work in Ghent and who will quickly make you feel as you already belong. This is NOT a city where you feel as a tourist who MUST visit or buy something to absorb the place. Ghent will slow you down and will make you take your time to enjoy a patio with good coffee, Belgian beer, lunch, dinner, dessert etc. Stay as long as you want on the patio, no one will rush you as the Gent HORECA (HOtel, REstaurant, CAfé) owners will respect and be truly grateful for your visit.
It is true that you can eat exceptionally well in Belgium, (the amount of Michelin rated star restaurants per capita is extraordinarily high). But most of us do not frequent these on a daily basis. When we are in the historic area of Ghent we frequent many restaurants and many are very good, but everyone has favorites and I am sharing mine. For coffee we like to stop at 3,14 (Pi) at the Groentemarkt. Delicious cappuccino and coffee served in a friendly manner in a cool interior make it a great spot indeed. Picture below 3,14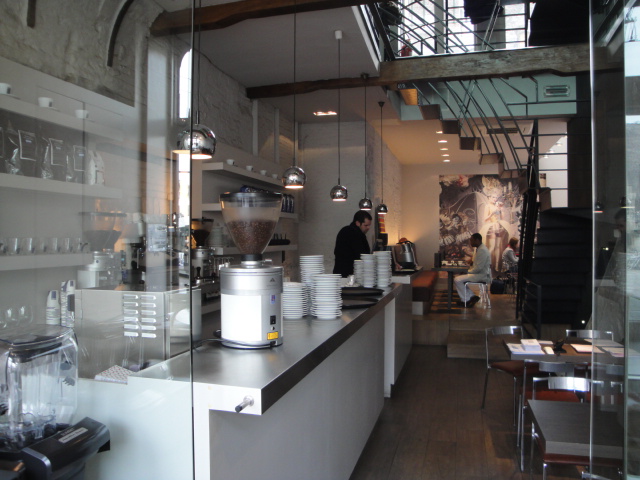 For lunch or dinner we favor restaurant The Graslei found on n°7 of the street of the same name. When weather is good, take a seat on the breathtaking patio overlooking water and buildings dating from the 13 th century. If the weather is slightly cold, you can still sit on the patio as luxury blankets are on each and every chair and outdoor heaters will be on. Inside, the décor is beautiful, immaculate and stylishly Belgian. Retaining parts of the old building mixed with the new. The food you say? Always delicious and very generous and will make you want to come again, even the same day. Ilse, the proprietor will greet you with tremendous enthusiasm and Jonas and the other attentive wait staff will serve you gracefully and respectfully. Plenty of excellent wine choices at the Graslei, although for lunch or in the afternoon on the patio I may reach for one of Belgium's most delicious beers, a Trippel Karmeliet, a beer I also use on occasion to cook savory dishes.
Picture above: Courtesy Restaurant Graslei