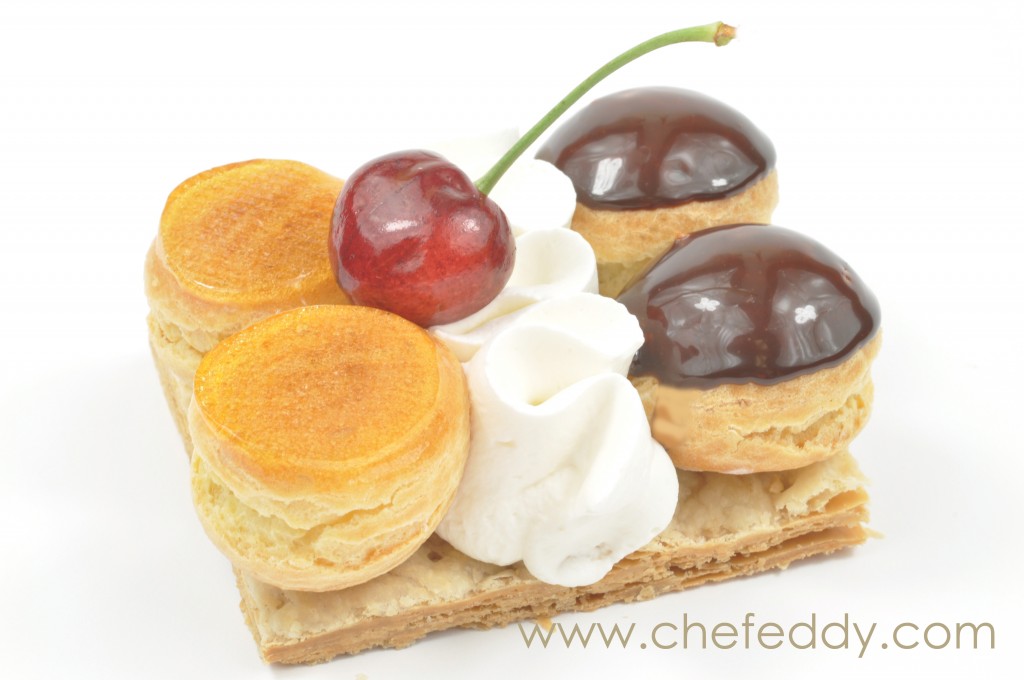 St. Honoré is possibly one of the best classic desserts. For this particular one, puffs are dipped in caramel and cocoa gelée and then filled with refreshing   cherry cremeux.  Fitting as an individual dessert for a patisserie or can easily be served with gelato or sorbet and be served as a plated dessert.

Cherry Cremeux
| | | | |
| --- | --- | --- | --- |
| | 8  oz | Cherry puree | 240 g |
| | 3.5 oz | Eggs | 100 g |
| | 3 oz | Extra fine granulated sugar | 90 g |
| | 2 | Gelatin sheets, bloomed | 2 |
| | 1 oz | Soft butter | 30 g |
| | | | |
| | | | |
| | | | |
| | | | |
| | | | |
| | | | |
| | | | |
| | | | |
| | | | |
| | | | |
| | | | |
| | | | |
| | | | |
| | | | |
| | | | |
| | | | |
| | | | |
| | | | |
1.    Set up a Bain Marie.
2.     In a non reactive saucepan heat cherry puree to 195°F (90°C).
3.     In a bowl whisk eggs and sugar very well until no strings remain. Temper egg mixture with all the heated puree. Place the bowl over Bain Marie and stir constantly using a rubber spatula to 195°F (90C°). Remove from heat.
4.    Stir in the bloomed gelatin and cool over an ice bath to 120°F (50°C). Stir in butter. Use an immersion blender for optimum smoothness. Allow cooling in refrigerator.
5.    Fill puffs when cremeux has completely cooled.