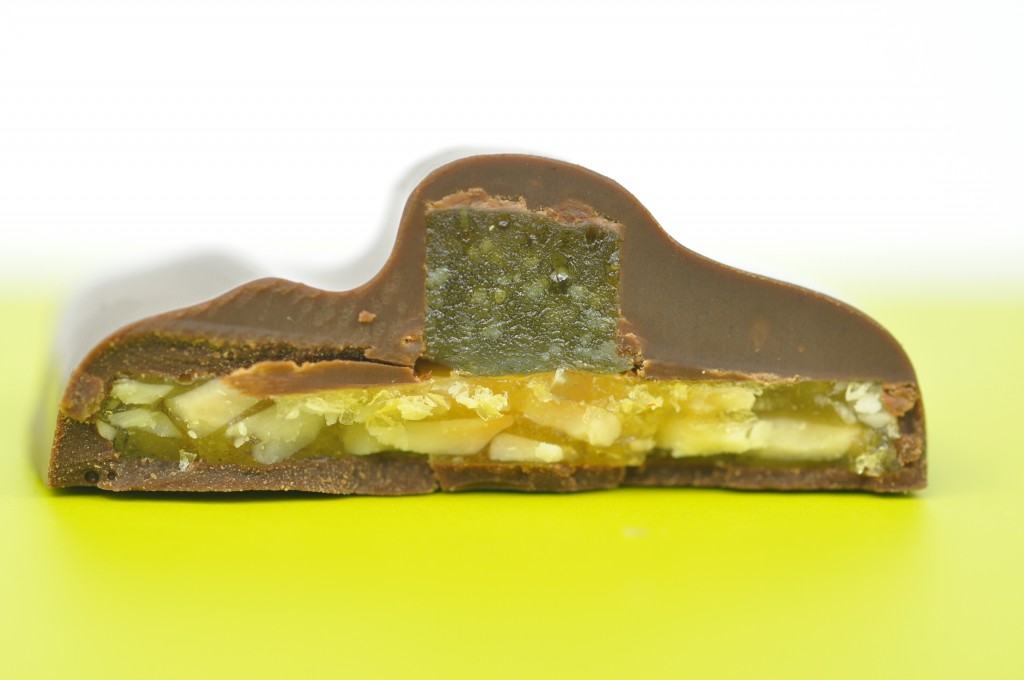 Nougatine slivers fit perfectly in a high end selection of chocolates and when properly made have a good shelf life, which is another reason, why they are a great addition in a Chocolatiers repertoire. For enthusiastic pastry students*, nougatine is an excellent skill builder. After all chances are you will be making nougatine to include it in ice creams, entremet, showpieces, plated dessert decorations…  I suggest you give it a go!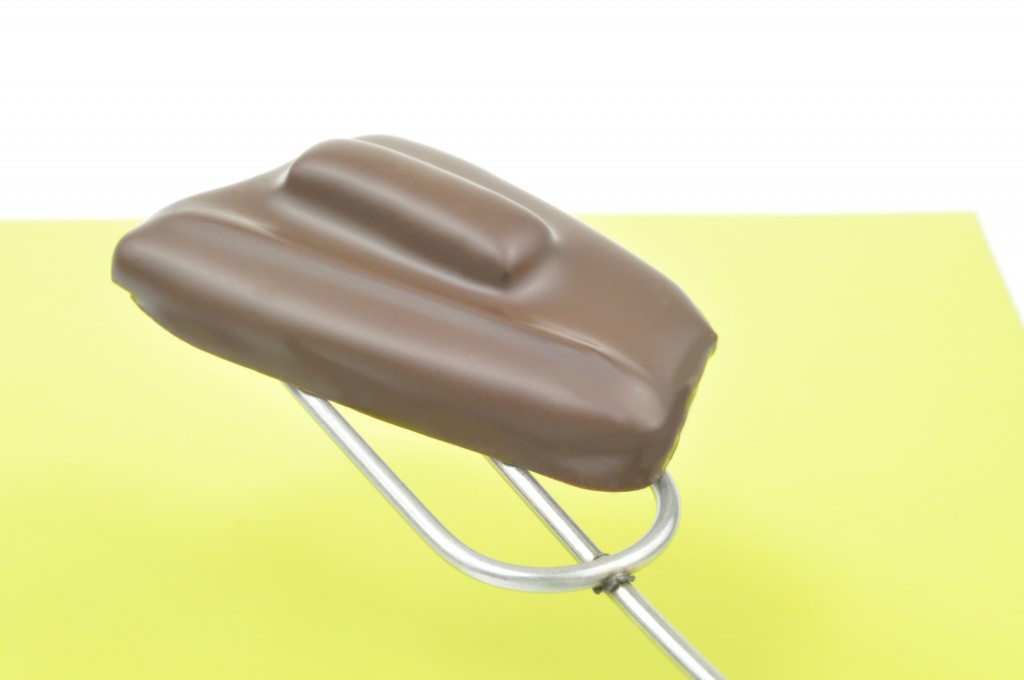 *Preparing caramel as described here is not easy, especially if you are new to this. Therefore before adding (expensive) almonds, make sure that the caramel is golden-amber and is non grainy.  This type of caramel made without water has a deeper and more delicious caramel flavor compared to caramel made with sugar, water and glucose or corn syrup.

Nougatine
| | | | |
| --- | --- | --- | --- |
| | 4 oz | Invert sugar | 120 g |
| | 1 lb 2 oz | Extra fine granulated sugar | 540 g |
| | 8 oz | Toasted almonds | 240 g |
| | 1 tsp | Vanilla bean seeds | 4 g |
| | | | |
| | 1.5 oz | Unsalted butter | 40 g |
| | pinch | Fleur de sel | Pinch |
Optional: Candied orange peel
Set aside a silpat and a rolling pin. If using a wooden rolling pin, butter it lightly. Not necessary if using a silicone rolling pin. Preheat  oven to 300°F (150°C)
In a saucepan bring invert sugar to a boil, add a few tablespoons of the listed sugar and stir to melt sugar (Do not allow to caramelize at this point). Add a few more tablespoons of sugar and stir until melted again. Continue with slowly adding larger amounts of sugar. Do not vigorously stir at any point.
Cook to a golden-amber caramel stirring gently. Remove from heat (If you do not have a perfect non grainy caramel at this point, do not waste almonds. Simply throw it out and do it again), immediately add butter, vanilla, salt followed by toasted almonds. Stir to combine with a heat resistant or wooden spatula.
 Scrape the nougatine onto the silpat. Let sit for a few moments and then start gently rolling the nougatine into a thin sheet about the thickness of 3 stacked credit cards.
If the nougatine hardens before it is sufficiently thin, keep it on the silpat and place it in the oven to slowly soften. Press with a finger to check if it is soft enough and then roll once more.
When cooled break nougatine into organic shapes.  Place a piece of candied orange peel on the surface if desired.
Dip into tempered chocolate of choice (I do recommend a non bitter dark chocolate as bitter chocolate quickly overtakes the caramel and almond flavor notes).