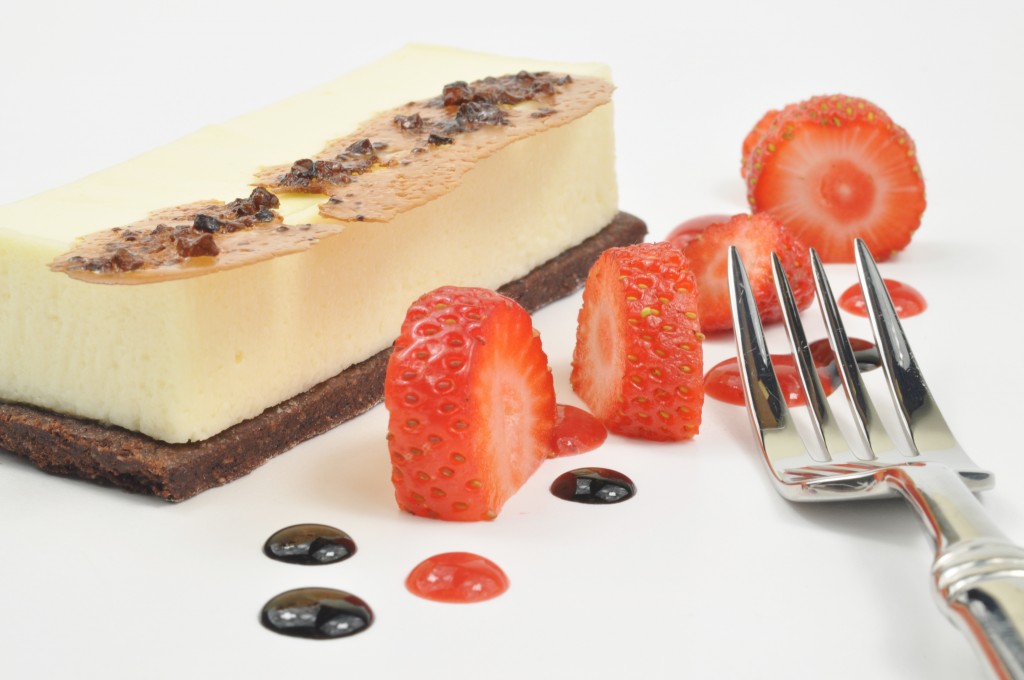 Philadelphia Cream cheese is indeed one of the few cheeses which make it possible to create smooth, delectable and creamy cheesecake. However, using a large percentage of this type of cheese for the production of cheesecake, can result in cakes which tend to be a bit heavy for today's consumer. Therefore I prefer to mix a rather large amount of Greek Yogurt into the cheese mixture. It makes it lighter, while at the same time making it superbly creamy. Greek yogurt also provides a slight tangy flavor found in cream cheese.
When I teach cheesecakes, I have noticed that students tend to pay close attention to the demos and instruction. As is the case with so many things, something as simple as cheesecake is not that simple at all. Oftentimes cheesecakes result in products which "glue" to our palate.
Key things to remember when making cheesecake:
Use cream cheese which is at room temperature. It cuts the amount of time that the mixture will be mixed. Long mixing times breaks down cream cheese and results in a thin batter and consequently a crumbly cheesecake.
Mix on lowest speed possible. Mixing on medium or high speed incorporates air cells. This "soufflés" the cheesecake during baking, but since there is no starch present, it will collapse when removed from oven. This makes it not only unsightly, but it also creates a dry feel in the mouth.
Use a Bain Marie and low temperatures when baking. It creates a superior smooth textured cheesecake.
This recipe does not allow freezing of the cake.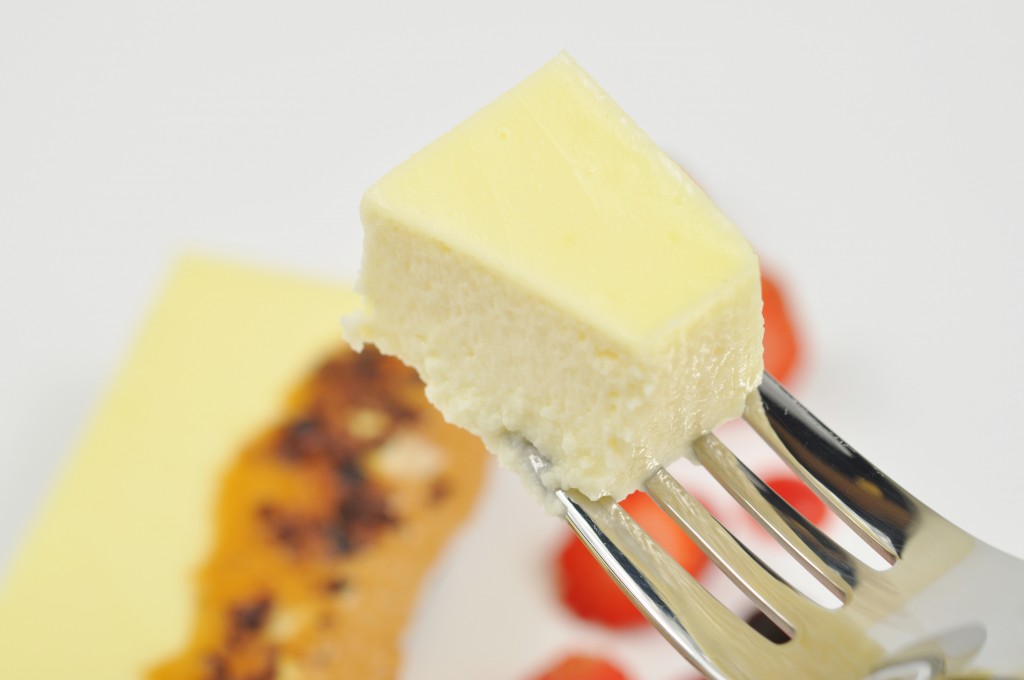 Cheesecake
Yield: 12-14 servings.
| | | | |
| --- | --- | --- | --- |
| | | | |
| | 1 lb 8 oz | Cream cheese, Philadelphia | 720 g |
| | 9 oz | Extra fine granulated sugar | 270 g |
| | 5 | Large eggs | 5 |
| | 1tsp | Vanilla extract | 5 ml |
| | .25 oz | Lemon zest | 9 g |
| | 1 lb 4 oz | Fage, Greek Yogurt | 600 g |
| | | | |
| | | | |
| | | | |
| | | | |
| | | | |
| | | | |
| | | | |
Choose a 20 cm (8 inch) spring form pan wrapped in 3 ply aluminum foil or for a plated dessert use a frame placed on 3 ply aluminum foil. Brush with melted butter and sprinkle with extra granulated sugar. Set aside.
On lowest speed using a paddle attachment mix room temperature cheese and sugar. When smooth and lump free ad one egg at a time waiting for previous added egg to be fully incorporated.
Add vanilla, lemon zest and yogurt and mix to combine.
Pour into buttered and sugared molds of choice and place in Bain Marie, bake at 325°F (160°C) until center of cheesecake no longer trembles. Time will depend on pan used.
Unmold next day onto a prebaked crust of choice.