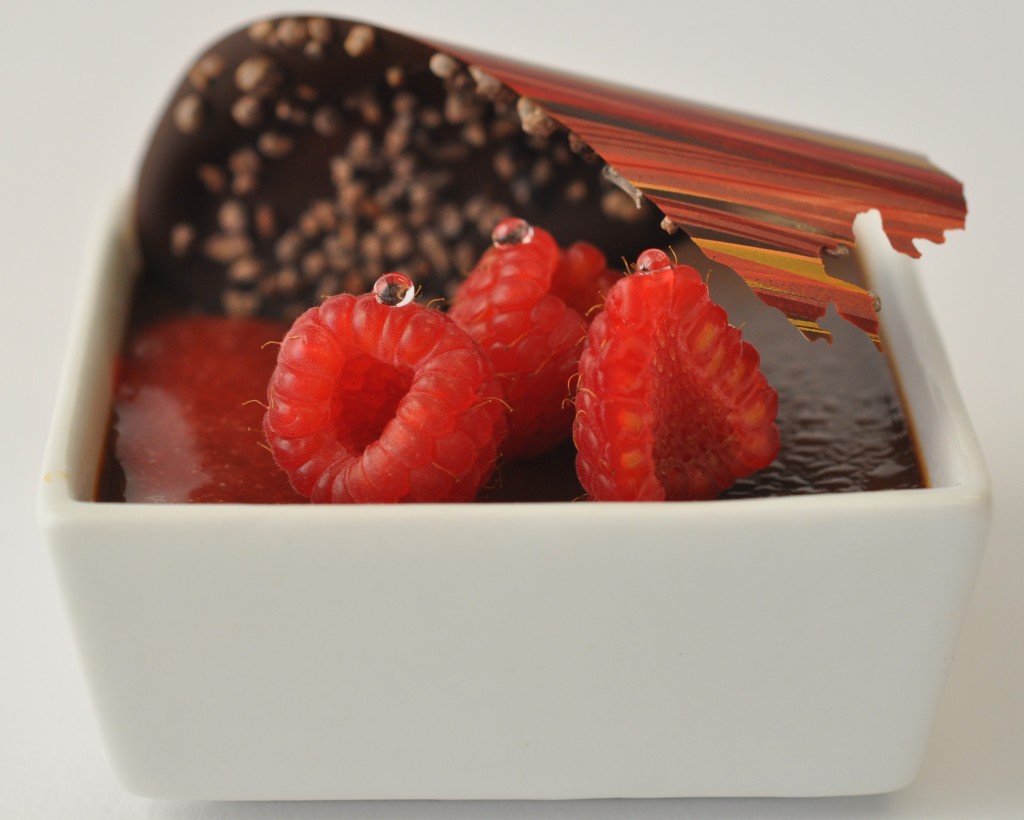 One of the desserts I would always look out to was my mom's chocolate pot de crèmes. The silky smooth chocolate cream she would make was one of my all time favorites. Till this day, I still vividly remember the dishes she used. My mother was always a bit avant- garde in her selection of serving dishes and glass ware. In fact, now that I am writing this, I wish I had these glasses here with me in the States. I certainly could have made the pot de crèmes in them, after all this time they are still that cool.
Chocolate pots de crème can be baked in an oven but my preferred method is preparing a crème Anglaise and not baking them. It makes a cream unsurpassed in ultimate smoothness. Through testing I have discovered that this cream provides a better result when using a rather low amount of egg yolks. A small amount of egg yolks will provide enough lecithin, sufficient to produce a silky-smooth cream.
Getting it all together!
Chocolate pots de crème need a few hours to set properly and can easily be made the day ahead. I always cover the dishes or glasses with plastic food wrap as I absolutely do not want a skin to develop. If you store these in a refrigerator holding other foods, it will also keep flavors from transferring into the chocolate cream. A chocolate décor is fitting, featured here is a cocoa nib sprinkled chocolate curl. Also very appropriate is using a cocoa nib tuile as shown here.
Serve the chocolate pots de crème with raspberry-as featured here, mango, passion fruit etc.
Chocolate pot de crème
| | | | |
| --- | --- | --- | --- |
| | | | |
| 1 Cup | (8 oz) | Milk | 240 g |
| 1 Cup | (8 oz) | Whipping cream (34-36 %fat) | 240 g |
| 2 | (2) | Large egg yolks | 2 |
| 4 Tablespoons | (2 oz) | Extra fine granulated sugar | 60 g |
| pinch | (pinch) | Fleur de sel or salt | Pinch |
| 7 oz | (7 oz) | 56%-65% chocolate | 210 g |
| | | | |
| | | | |
| | | | |
| | | | |
| | | | |
| | | | |
| | | | |
In a small saucepan bring the milk and cream to a boil.
In a bowl whisk the yolks smooth and add vigorously whisk in the sugar. Gradually add one fourth of the boiled cream to the egg yolks while whisking. Add the salt.
Pour the yolk mixture into the remaining cream and stir constantly using a rubber spatula over low heat until 183°F (81°C-83°C). Remove from heat and pour thru a fine chinois.
Add the chocolate and mix smooth using an immersion (Hand held-stick) blender or standard blender.
Pour in verrines or dishes of choice. Cover with plastic food wrap and place in the refrigerator for several hours.