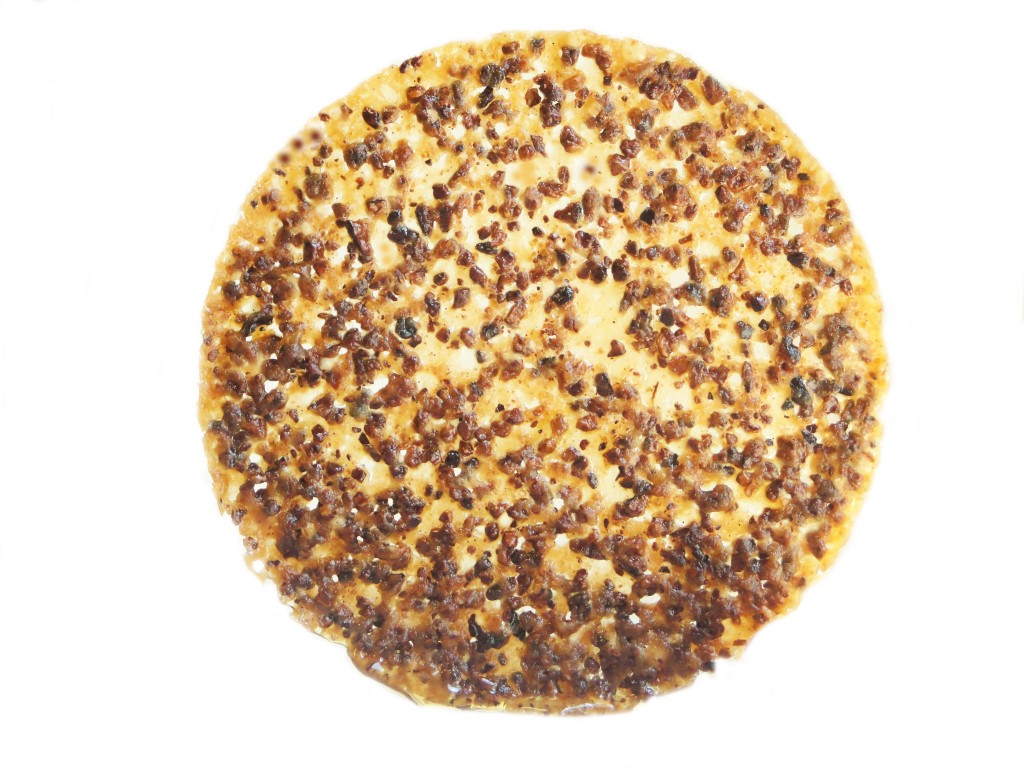 Oftentimes I incorporate cocoa nib tuiles in a plated dessert or serve them with sorbets such as mango-passion fruit, raspberry or chocolate. They are also terrific when dipped in tempered chocolate for enhanced flavor complexity.  They work equally well with milk or dark chocolate.
Coated in tempered milk chocolate, the cocoa nib temperament is pronounced clearly and then they are excellent when paired with coffee or espresso. If dipped in semi or bitter sweet tempered chocolate I suggest serving them with hot cocoa or Port for a delicious treat.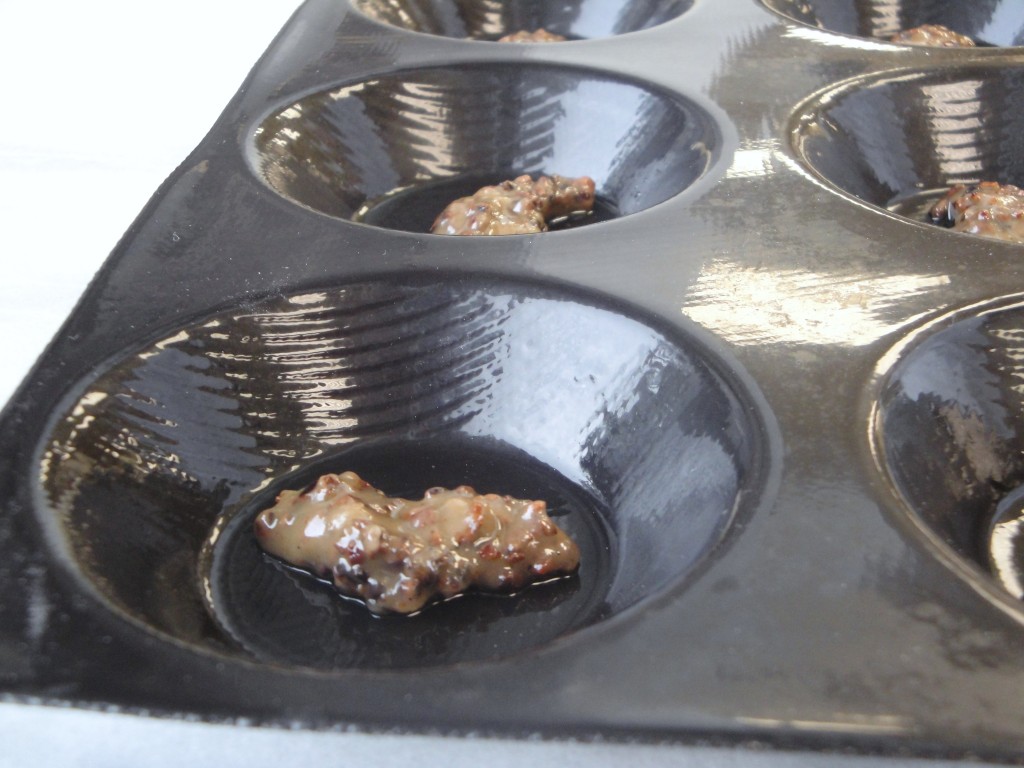 Cocoa nibs are available raw, roasted and caramelized roasted. Any variety will work in most pastry applications. For simply snacking or a quick sprinkle on gelato or sorbet I do prefer the caramelized version.
The family of tuiles has one downfall which is that they cannot tolerate humidity well. They simply attract moisture to them. So after preparing these they have to be quickly stored in an airtight container and perhaps stored with a desiccant. A great solution is simply to consume these within a few hours of making! Another way out is to dip them entirely into tempered chocolate of choice and thus essentially make them impervious.
Getting It All Together!
Prepare the cocoa nib tuiles the same day they will be served unless if you will be dipping them entirely in tempered chocolate.  Store airtight either way. Serve as is or with chocolate mousse, sorbet, gelato, espresso, hot chocolate or Port.  If you are uncertain on how to temper chocolate, visit "tempering chocolate" on this blog for a quick and easy method.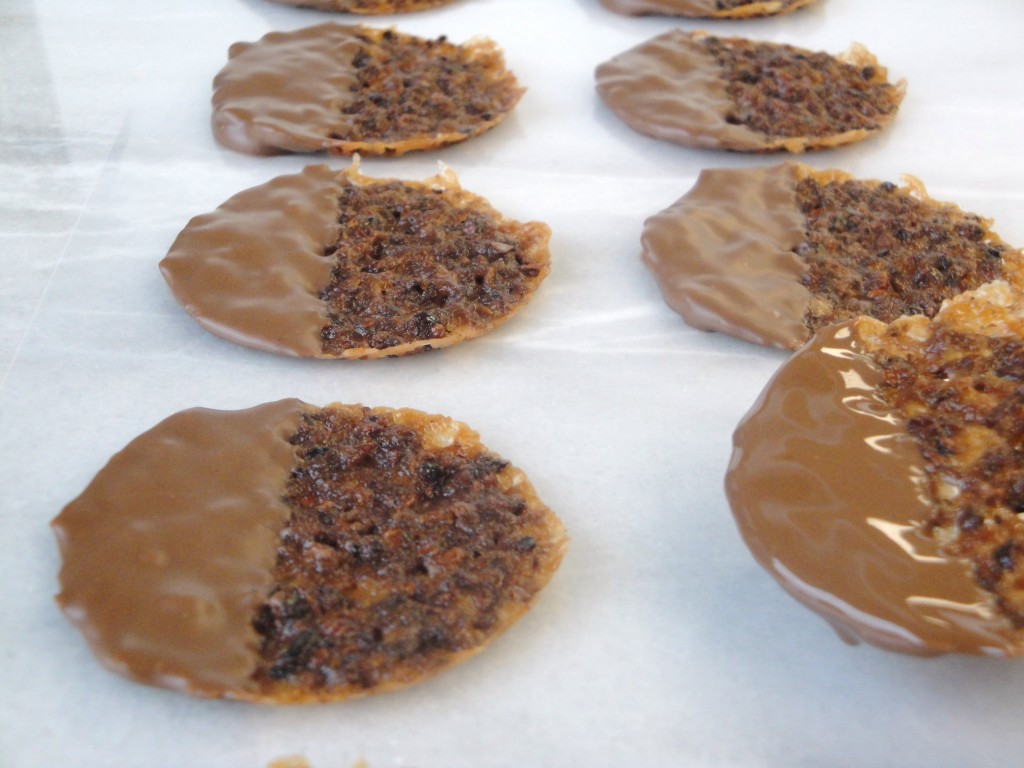 Cocoa Nib Tuiles
| | | | |
| --- | --- | --- | --- |
| 7 Tablespoon | (3.5 oz) | Unsalted butter | 100 g |
| ½ Cup + 1 Tbsp | (4.5 oz) | Extra Fine Granulated Sugar | 135 g |
| ½ Cup | (2 oz) | Glucose or corn syrup | 60 g |
| 3 Tablespoons | (1.5 oz) | Milk | 45 g |
| 1 teaspoon | (0.15 oz) | Vanilla bean paste or extract | 5 g |
| 1 pinch | (pinch) | Salt | pinch |
| ½ Cup | (3 oz) | Cocoa nibs | 90 g |
Combine all the ingredients excluding the cocoa nibs in a saucepan and boil the mixture while stirring to 230 (110). Remove from heat and add the cocoa nibs. Let cool.
To obtain a perfect round tuile as shown in the picture a round silicone form is necessary. Silicone muffin pans work perfectly. For a muffin size indention use 1 ½ teaspoon of the mixture. It is very little but the mixture will spread. For different size silicone forms it may be necessary to perform a test to find out the right amount to use. Remember the mixture can spread thinner than a credit card.
Place in a 350 for about 10 minutes or until golden brown.
Once cooled store airtight or dip in tempered chocolate.