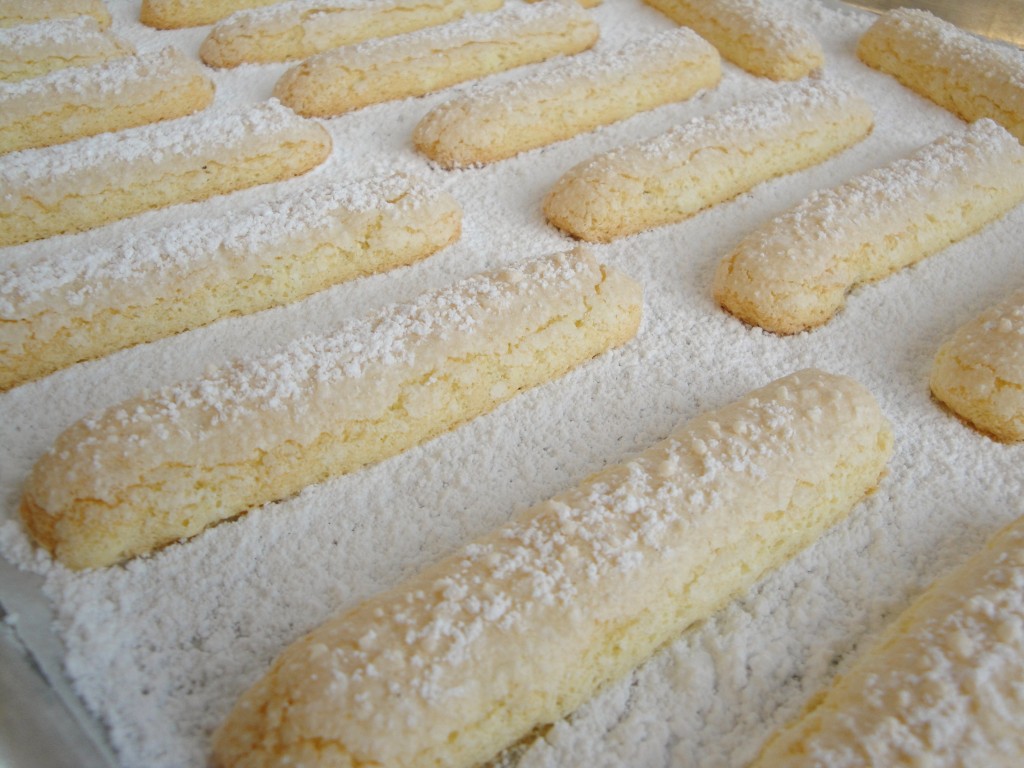 How to Make Ladyfingers
The flavor and texture of perfect ladyfingers is simply delightful. Their soft and tender core and delicate crunch on the surface makes them simply irresistible. Needless to say, ladyfingers hold a starring role in Tiramisu but they are also central in countless other desserts. Their spongy texture is ideal for soaking up liquor syrups and infusions of all kinds, adding tremendous possibilities to desserts. Prepackaged ladyfingers have sadly nothing in common with homemade ones. Would you not agree that they are a disgrace? With a texture stuck between Styrofoam and cardboard and a flavor profile of stale egg bread, they do not compare to the real thing and neither do they have a place in my kitchen!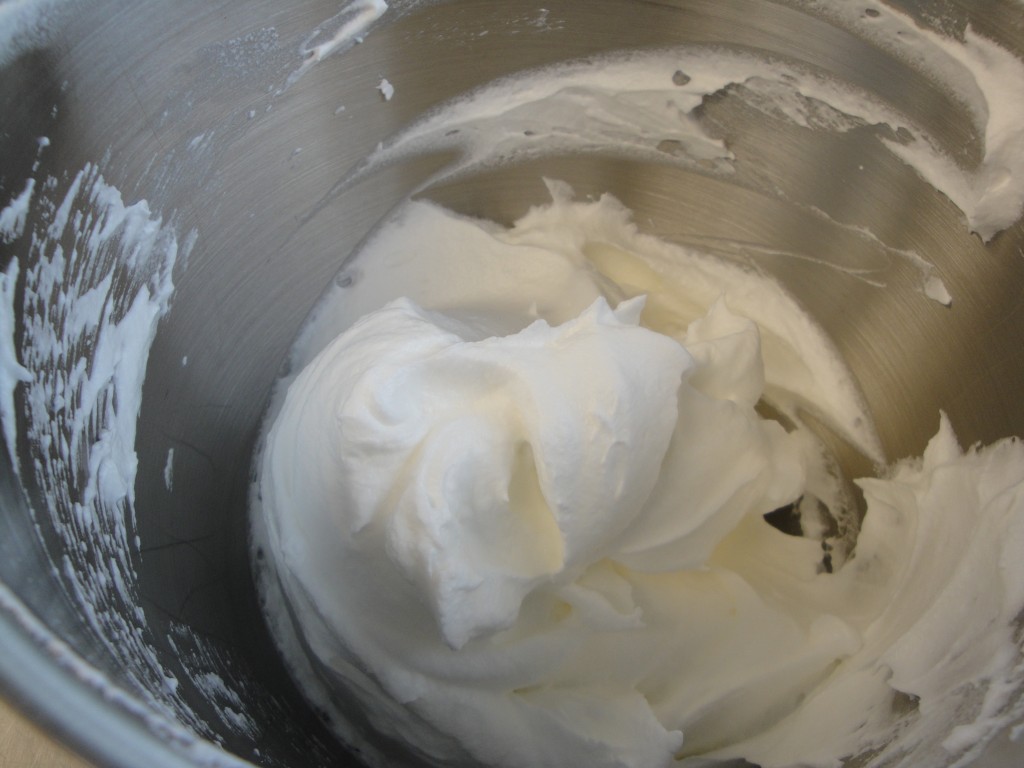 If I stated that ladyfingers are easy to make, it would dishonest. You can open up several professional baking books and view many less than desired ladyfingers. It's not that the ingredients are temperamental, with ladyfingers it's really all about correctly folding the ingredients. If the batter is not folded enough, bits of flour lumps may still be present, over-folded the batter becomes runny and will not hold its shape when being piped. Some recipes use more flour if compared to this one, making it more stable or stiff-due to the extra starch content, but the result is much less refined.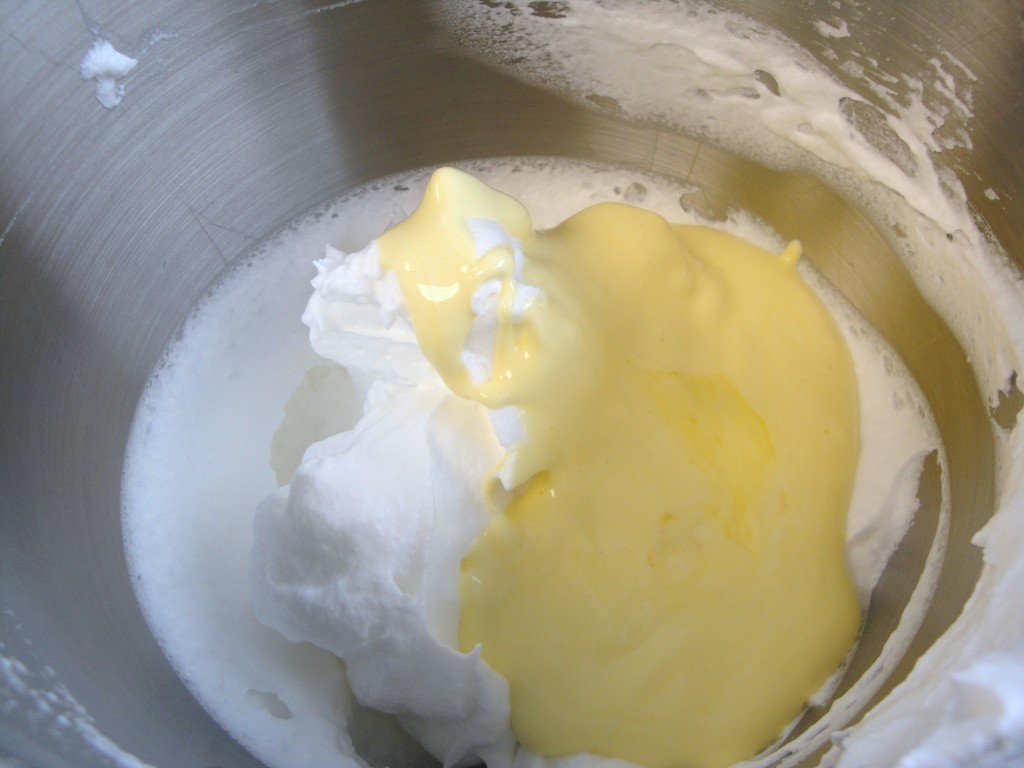 Piping ladyfinger batter into "fingers" is for many applications absolutely not necessary. The batter can easily be spread on a baking sheet and be cut into any shape you need for layering Tiramisu or anything else. This option is also perfect for many uses like layering ice cream and or sorbet cakes and mousse entremets.  In fact, pastry chefs customarily use ladyfingers for the outside of entremets or tortes and sheet style ladyfingers for layering applications.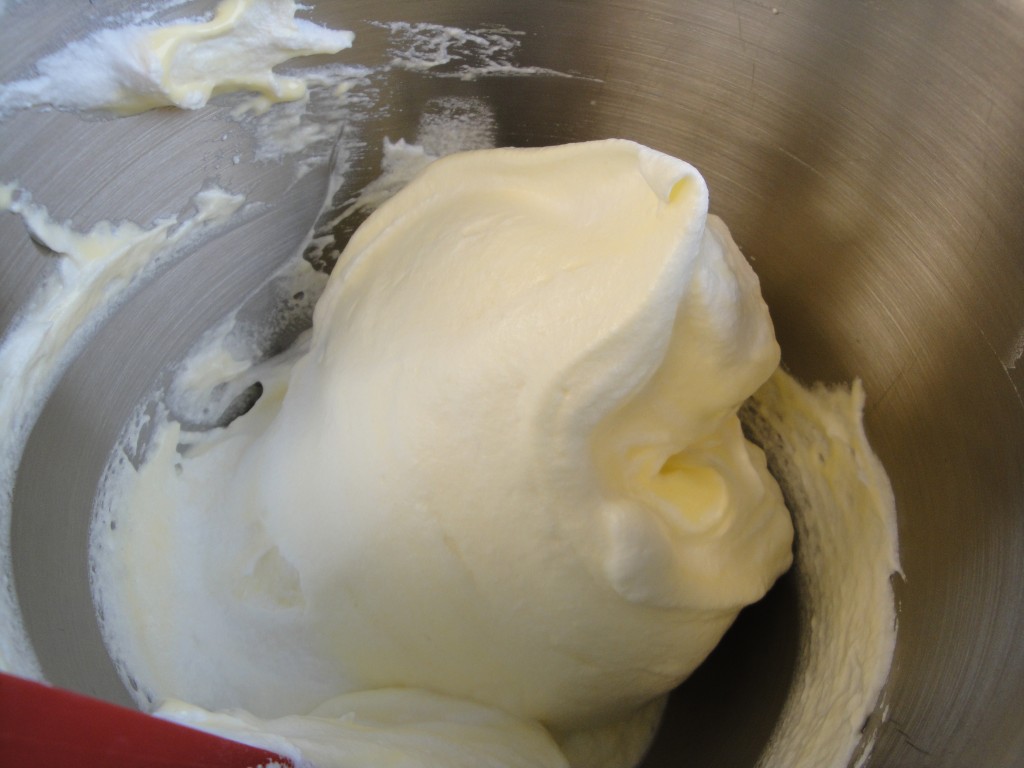 Getting it all together!
Ladyfingers freeze very well. Professionals do it all the time, so there is no need to make these the last minute. Once cooled place them in an airtight bag and freeze!  Make sure you dust the ladyfingers twice with powdered sugar before baking to obtain the much desired delicate crunchy surface.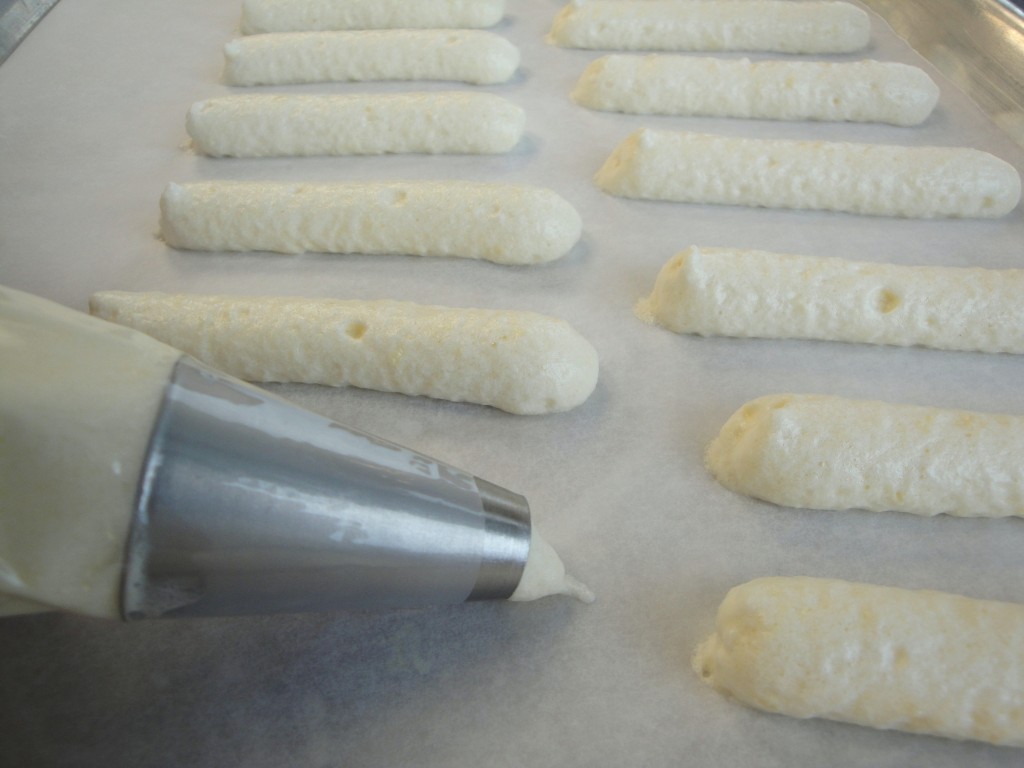 Ladyfingers
Yield: about 50
| | | | |
| --- | --- | --- | --- |
| | | | |
| 1 Cup | (4.5oz) | All purpose flour | 135 g |
| 6 | (6) | Egg yolks, large | 6 |
| 1 teaspoon | (1 tsp) | Vanilla extract | 5 ml |
| 6 | (6) | Egg whites, free of yolk traces! | 6 |
| ½ Cup minus 1 Tbsp | (3.5oz) | Extra fine granulated sugar | 115 g |
| | | | |
| As needed | | Powdered sugar for dusting | As needed |
| | | | |
Set the oven at 400°F (200°C).
Prepare 2-3 baking sheets with parchment paper and set aside. If piping the ladyfingers prepare a piping bag fitted with a baking tip slightly smaller than ½ inch (1 cm).
Sift the flour twice and set aside.
Whip the egg yolks and vanilla on high until a thick ribbon forms and the color is pale, at least 8 minutes. Set aside.
In a separate and immaculately clean bowl whip the egg whites and sugar to a very stiff consistency (as seen in the picture). Remove from machine.
With a spatula stir the meringue around to make it smooth and homogenous. (Since they do not contain flour or egg yolk yet, they will not fall)
Quickly scrape the whipped yolks to the meringue and fold gently with a spatula until almost completely mixed together. Some yellow streaks may remain.
Gently fold the sifted flour into the mixture taking care not to overfold.
Place in the piping bag and pipe into long fingers or spread evenly onto two baking sheets.
Dust with powdered sugar and let sit for a minute. Dust a second time and place in the oven until golden brown, about 10 minutes.