Chocolate Crème Brûlée
One thing I know for sure, when a dessert consists of only a few ingredients, the quality of these, need to be very high. If they are not, the result will not live up to expectations.
If you are making vanilla crème brûlée then the vanilla bean and the cream need to be of excellent quality.  In the case of chocolate crème brûlée, it is the chocolate which needs to be carefully selected.  However, it is more than just the chocolate which plays a role in good chocolate crème brûlée.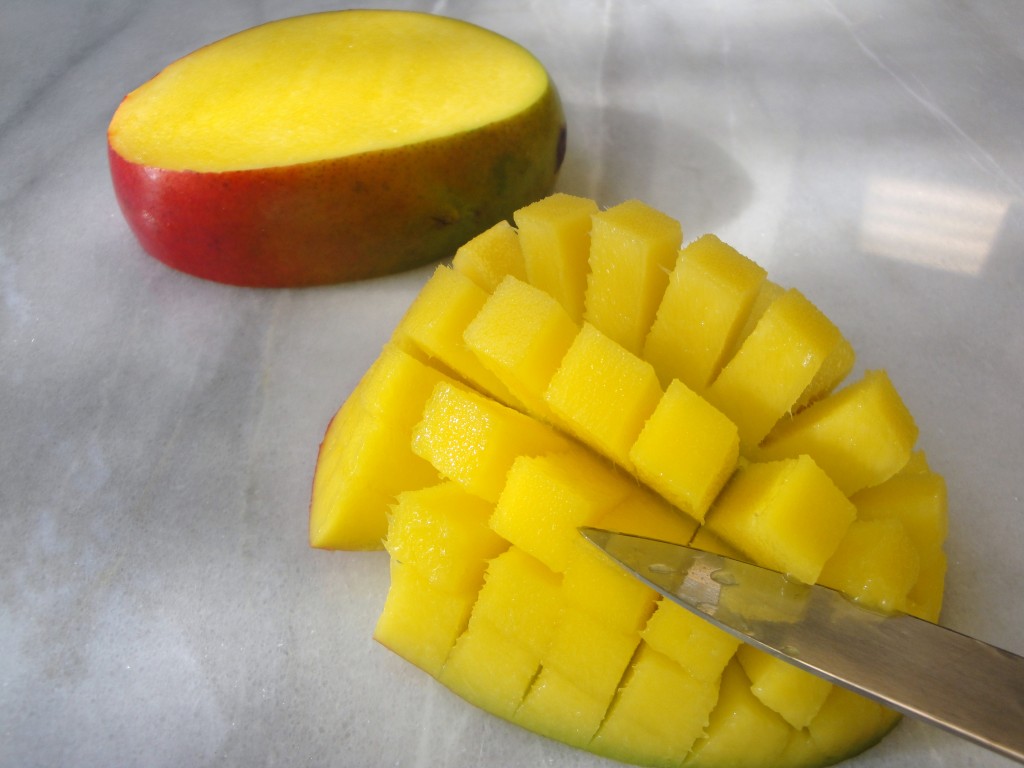 Years ago when I was perfecting this recipe I made countless versions, part to get the flavor and part to get the consistency right. It became clear that best results are obtained by using brown sugar and a touch of coffee extract or coffee liquor. Adding small amounts of coffee extract to enhance the flavor of chocolate is nothing new in the pastry kitchen. But it is extraordinary how brown sugar enhances and completes the chocolate flavor in this brûlée.
When looking for chocolate, do not even consider inexpensive standard size chocolate chips meant for cookies.  They will not give you the result that you're after.  If you are at a specialty food store and you find chocolate in a disk shape about ½ inch (1 cm) in diameter, those could be very good to use. Professionals call these pistols or callets and they are oftentimes made by companies such as Callebaut, Cocoa Barry and others. Finding these callets is certainly not necessary since excellent chocolate can be found in block form by companies such as Callebaut and Valrhona. Be certain to get the chocolate with the right cocoa amount. The cocoa content indicates the strength of the chocolate flavor. Too low of a cocoa content will give you a brûlée which is too sweet with a lack of a well pronounced chocolate flavor. If you go too high in cocoa content, you will obtain a brûlée which may be too bitter and all other flavor nuances may be lost.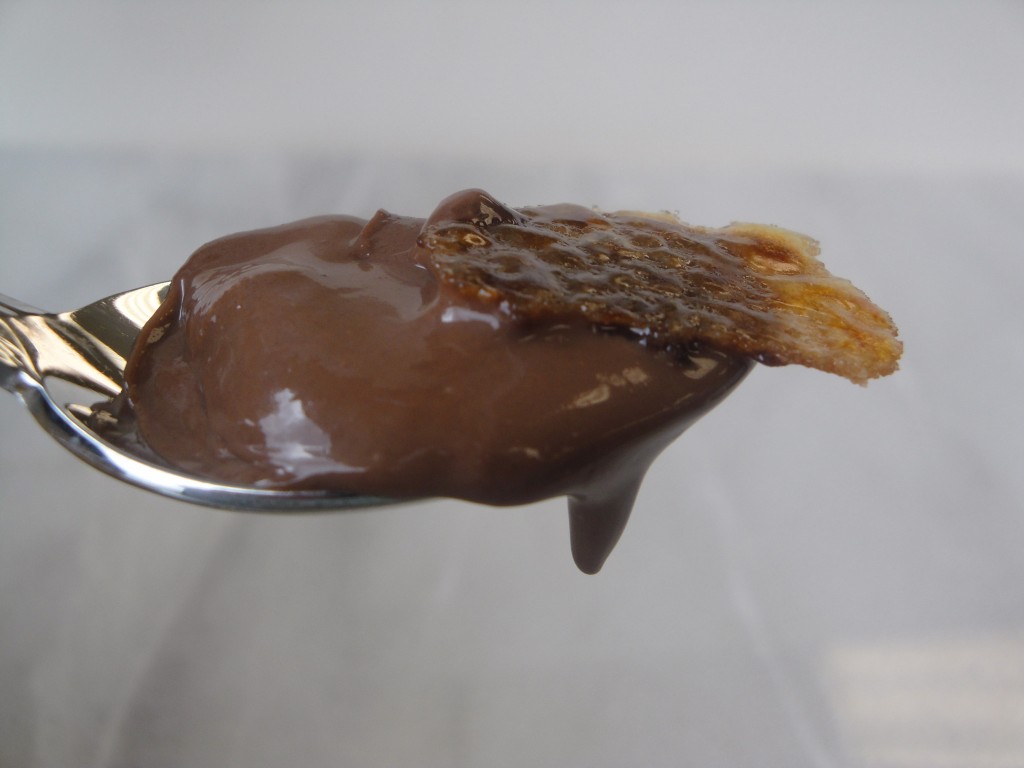 Getting it all together!
You can make the chocolate crème brûlée a day before you need it. I do not recommend making it two days before, it will start to become less creamy. Oftentimes I suggest removing desserts out of the refrigerator an hour before serving to obtain the best texture and flavor profile. With chocolate crème brûlée this is not necessary since you will torch the surface of the custard to obtain the brûlée or burnt surface (Burnt not in an overcooked sense) and the heat of the torch will remove the chill from the custard. Serving the chocolate crème brûlée with raspberry, mango or passion fruit are fantastic choices for extraordinary flavor explosion.  Decorate with a tempered chocolate décor. Follow the easy method for tempering chocolate on this site. Use a pastry spatula dipped in tempered chocolate to obtain the organic shaped chocolate décor. Store tempered chocolate décor in a dark cool place away from odors.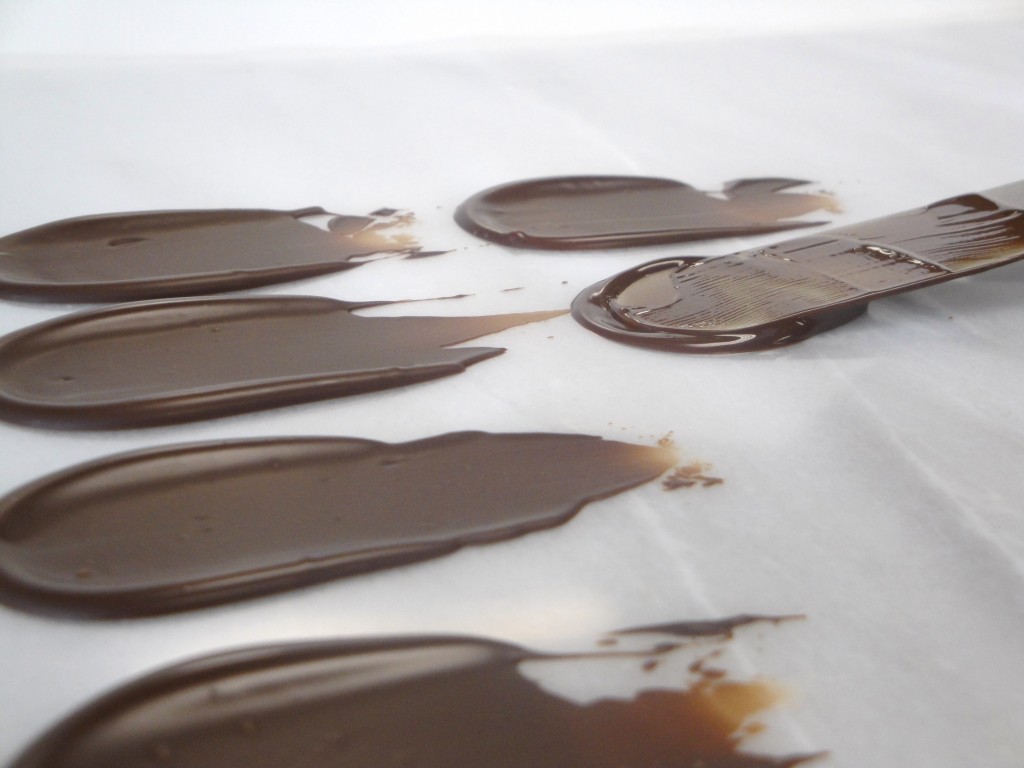 Chocolate Crème Brûlée
4-6 servings
When preparing chocolate crème brûlée, mix the ingredients just enough to combine well. If over- mixed too much foam will develop on the surface. The method below of incorporating the egg yolks is especially designed to eliminate exes foam.
| | | | |
| --- | --- | --- | --- |
| 1 ½ Cups | (12 oz) | Heavy cream | 360 g |
| ½ Cup | (4 oz) | Milk | 120 ml |
| ¼ Cup | (1 oz) | Dark cocoa powder | 30 g |
| 3 oz | (3 oz) | Bittersweet chocolate (60%) | 90 g |
| 4 | (4) | Egg yolks | 4 |
| ½ Cup, packed | 4 oz | Brown sugar | 120 g |
| 2 teaspoon | (0.10 oz) | Vanilla extract | 10 ml |
Use either coffee liquor or instant coffee granules:
| | | | |
| --- | --- | --- | --- |
| 3 Tablespoon | (1.5 oz) | Coffee liquor | 45 ml |
| 1 Tablespoon | (1 Tbsp) | Instant coffee | 15 ml |
In a saucepan bring the cream and milk to a boil. Remove from heat and whisk in the cocoa powder. Cut the chocolate in small pieces and whisk in the mixture until smooth.
In a separate bowl whisk the yolks smooth. Add about a half cup of the cream –chocolate mixture and combine well. Add the brown sugar, vanilla extract and coffee liquor.
If the mixture shows excess foam on the surface, let it sit for 15-30 minutes.
Place ramekins in an oven proof dish. Fill the ramekins with the crème brûlée mixture. Pour water in the oven proof dish to meet half way up the sides of the ramekins.
Place in a 325F (160) until the center of the brûlée no longer trembles, about 70 minutes.
Let cool for several hours or overnight. Sprinkle lightly with sugar and caramelize the surface with a blow torch.
Serve with fruit or sorbet.