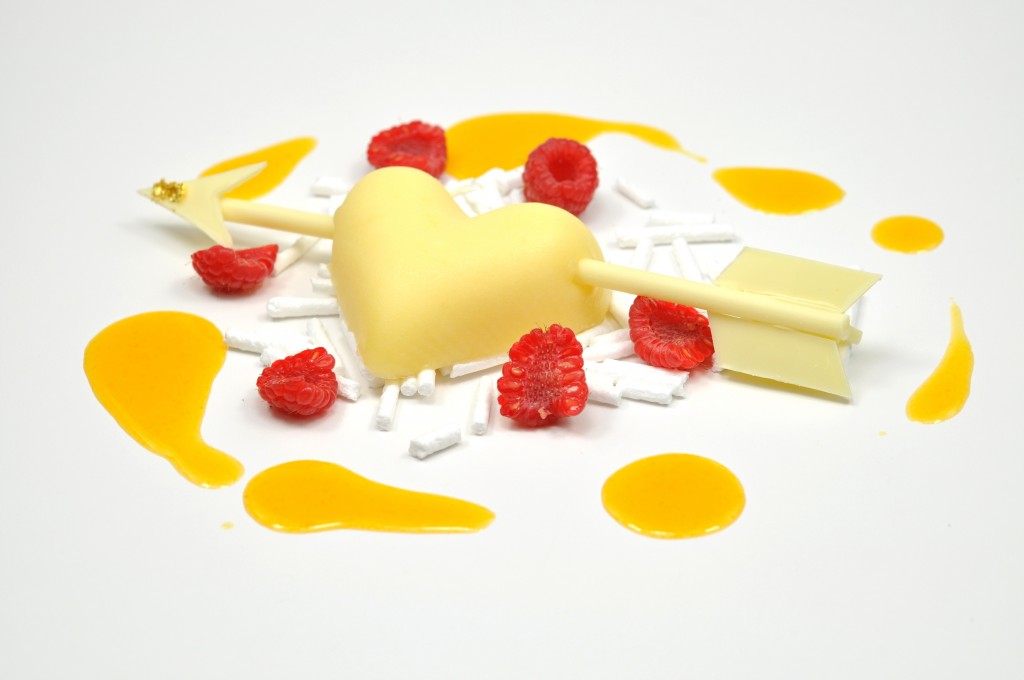 Valentine menus tend to be filling and oftentimes rich. For such occasions I like to select a dessert which is either light or is very strong in flavor. This lemon and passion fruit cream does the trick. If desired serve with raspberry, champagne and rose or blackberry sorbet.
For the heart I made a lemon cream with a hint of passion fruit and poured it in a heart shaped silform and placed it in the freezer. Unmold and place it on a bed of baked meringue sticks. For the sauce I used a caramel passion fruit sauce without the use of pectin (On Baking pg 548). To the sauce I added 2 oz (60 g) of mango puree to give it additional body.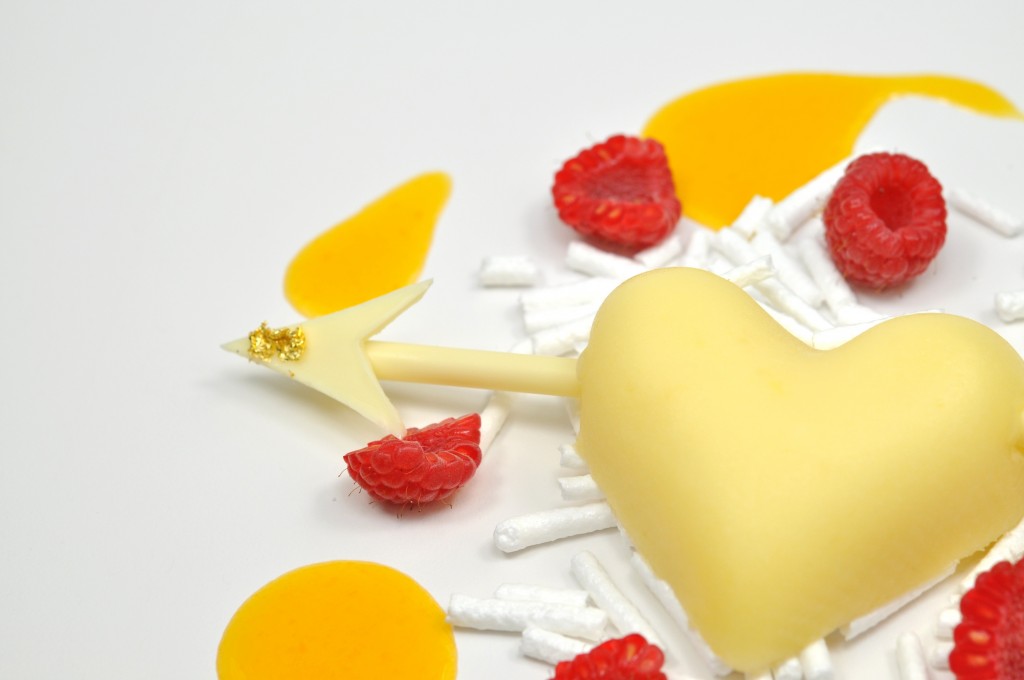 Lemon and Passion Fruit Cream
This cream is soft and creamy, for large functions where the dessert has to be out of the refrigerator for a while, add one bloomed sheet of gelatin before adding the butter.
½ Cup
(4 oz)
Extra fine granulated sugar (A)
120 g
¾ Cup
(4 oz)
Lemon juice
120 ml
¼ Cup
(2 oz)
Passion fruit juice
60 g
4
(4)
Large eggs
4
½ Cup
(4 oz)
Extra fine granulated sugar (B)
120 g
2 Sticks
(8 oz)
Unsalted butter,

soft

240 g
In a non reactive saucepan bring to a boil the sugar (A), lemon and passion fruit juice.
In a separate bowl whisk the eggs for 30 seconds. Add sugar (B) and whisk vigorously for 1 minute. Pour one fourth of the boiled mixture to the eggs while whisking rapidly. Pour the tempered eggs into the remaining boiled mixture and whisk until the mixture comes to a rapid boil and bubbles thick like lava. Ensure that the mixture boils as this ensures a proper "set" from the eggs.
Let cool to 125°F (53C°). Stir in the SOFT butter. If any butter lumps remain, heat lightly in a microwave oven.
Pour the cream immediately into the heart shaped silicone molds and place in the freezer.
When frozen unmold.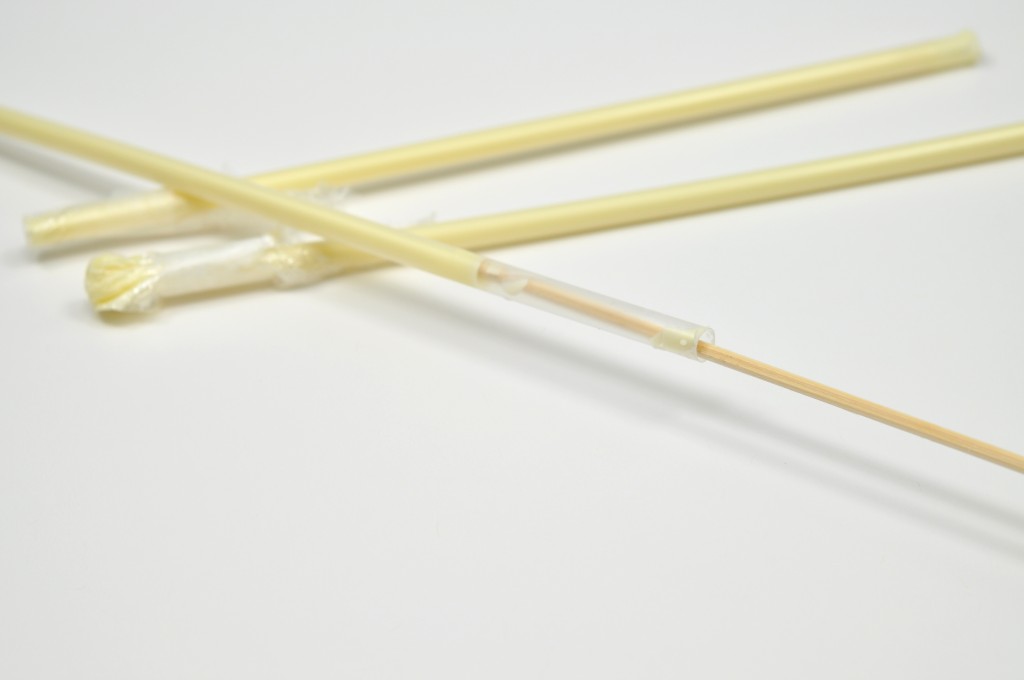 1. Pipe tempered chocolate into a straw which has been closed at one end with plastic food wrap. After setting push out the chocolate using a wooden skewer.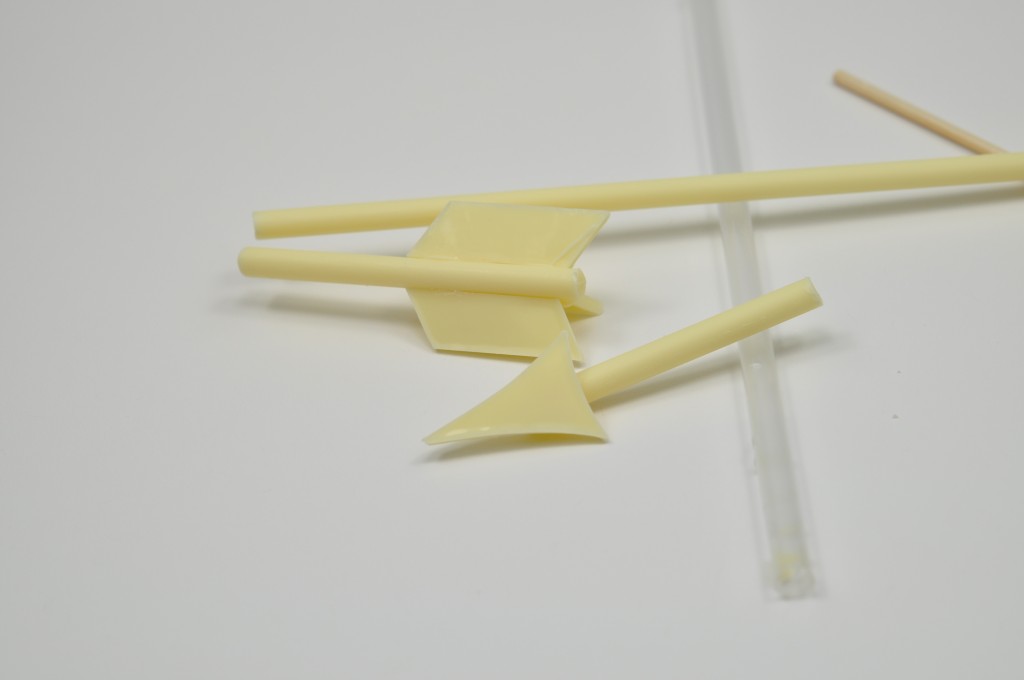 1. Spread tempered chocolate on a plastic sheet and one the chocolate has firmed like "leather" cut into point of arrow and wing. Attach to arrow using tempered chocolate.