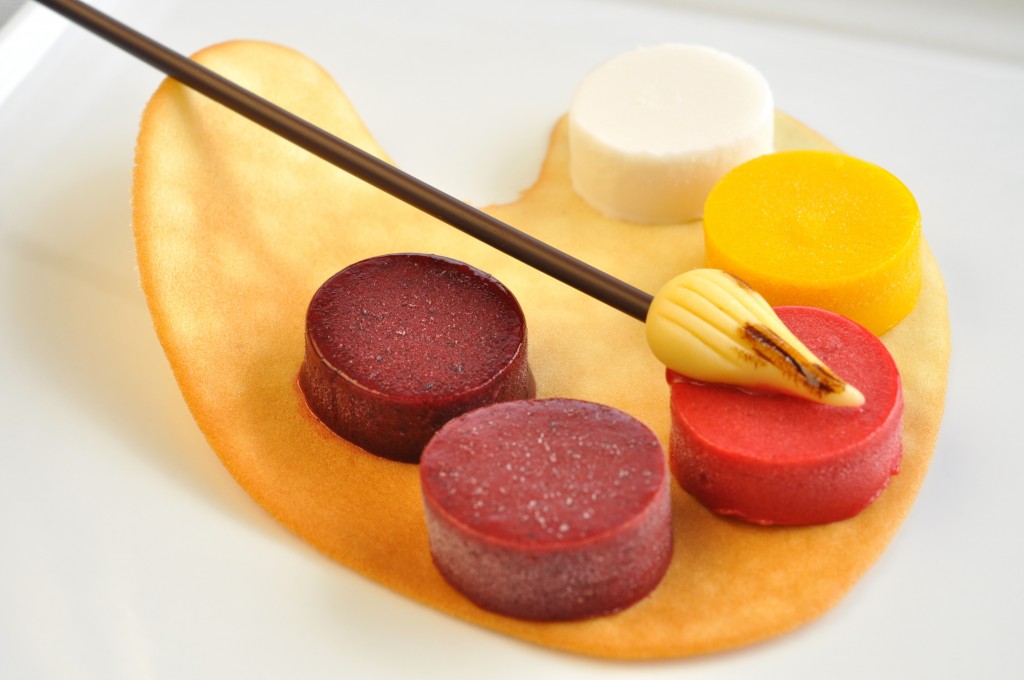 When I make desserts specifically for children I always keep a few things in mind such as incorporating lots of color (without using artificial food color), keep fat at a bare minimum and always add a touch of whimsy. For so many years now have I done a painter's palette with sorbet and kids always get excited when they first see it. Adults too seem to get touched by the look of this dessert. Maybe a painter's palette reminds us of our childhood or the dreams we may have had of being a painter….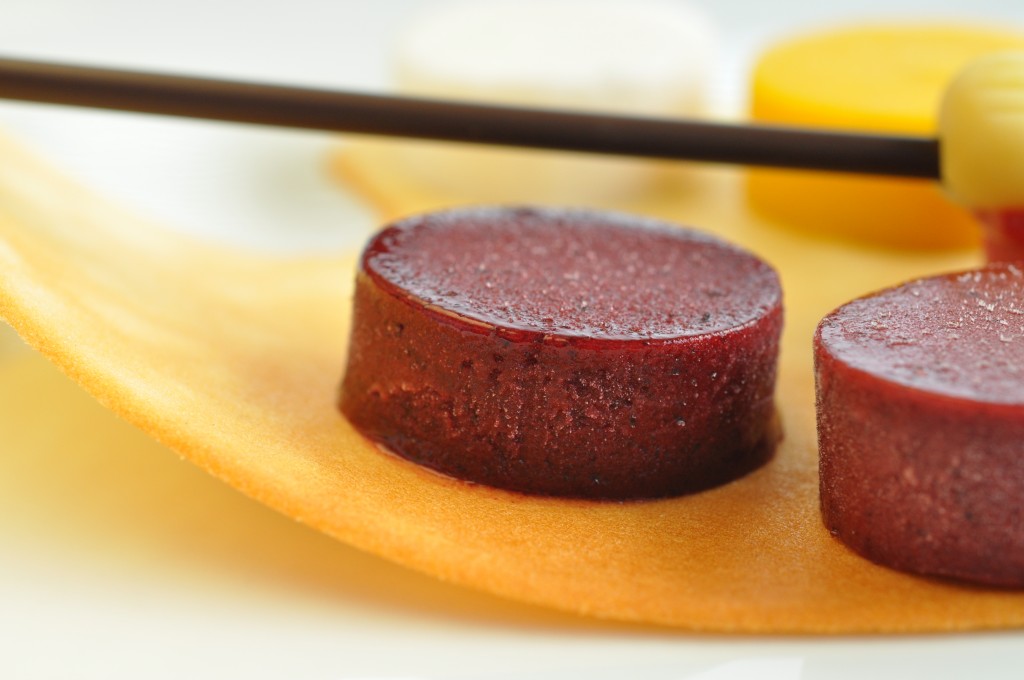 Making sorbet is very easy but still sometimes not very well understood. For a sorbet to be smooth and creamy the ratio of fruit puree to water and sugar has to be perfect. If not, the sorbet may be icy or basically too soft and consequently overly sweet.  For example, a granita contains less sugar and a larger percentage of water if compared to sorbet and that makes the texture of granite icier.
Most professional pastry chefs tend to use purchased frozen fruit puree for most sorbet applications. Purchased from top quality manufacturers these purees are not only convenient but oftentimes the flavor profile is better as compared to fresh. Part of the reason for this is that much of the fresh fruit available to the consumer are hybrids, which may have an excellent shelf life but all to the cost of flavor.  One of the conveniences obtained by using frozen fruit purees from quality companies is that the sweetness level is amazingly constant. A consistent level of sugar in the fruit puree makes making sorbet less complicated. When all the ingredients are properly scaled and the syrup is properly prepared chances are that the use of a saccharometer is less needed. Certainly you can check the sugar content in the sorbet mixture before churning but chances are it will be consistent.  Most sorbets are made using a density reading of 1.1133 or 17° Baume to 1.1425 or 18° Baume. The coconut sorbet is formulated to the latter.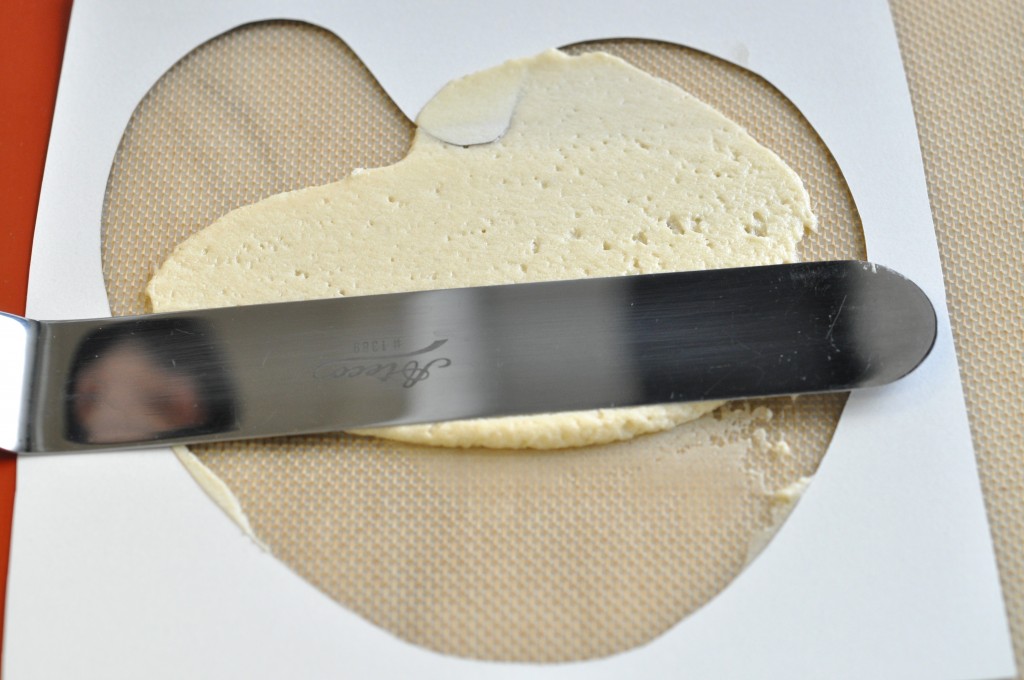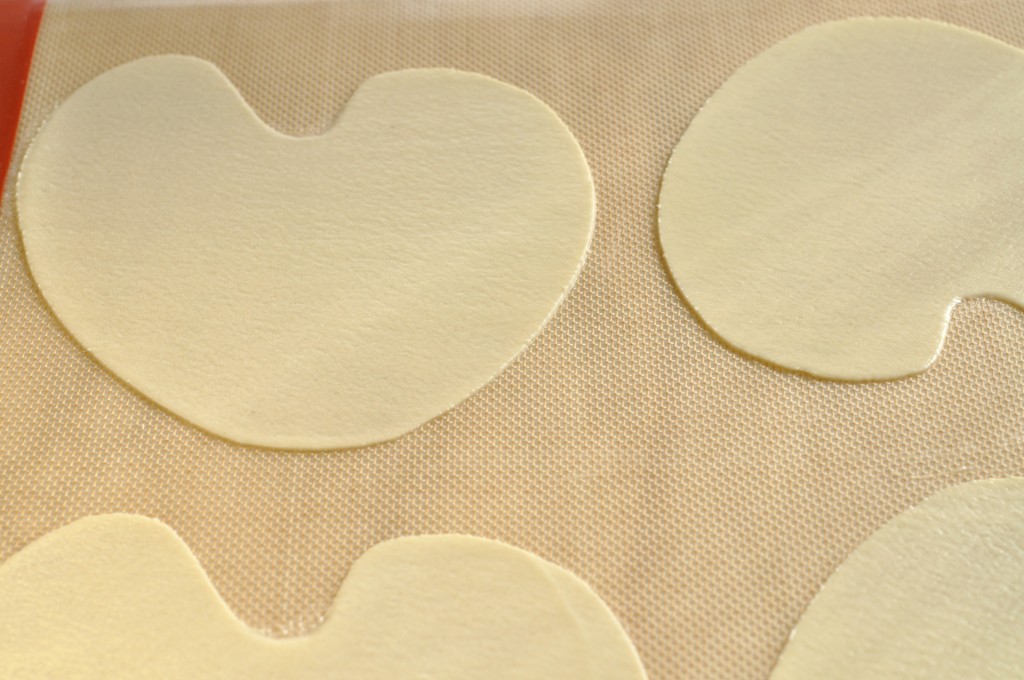 Getting it all together!
A sorbet syrup is always best made a day ahead of churning the sorbet. This matures the syrup and a smoother sorbet will be obtained.
The sorbet disks are made by spreading the fresh churned sorbet onto a Silpat to a thickness of ½ inch (1.5 mm). Once solid hard cut into circles.
An ordinary cake box proves to work well to create a stencil for using the tulip batter. This batter is related to waffle cones, these too will quickly absorb humidity and therefore become soft. As soon as the tulip shapes are baked and cooled keep air tight.
Make the "paintbrush" by piping tempered chocolate into a drinking straw closed one end by plastic food wrap. After cooling press the chocolate out the straw by using a pointy object such as a needle of a thermometer.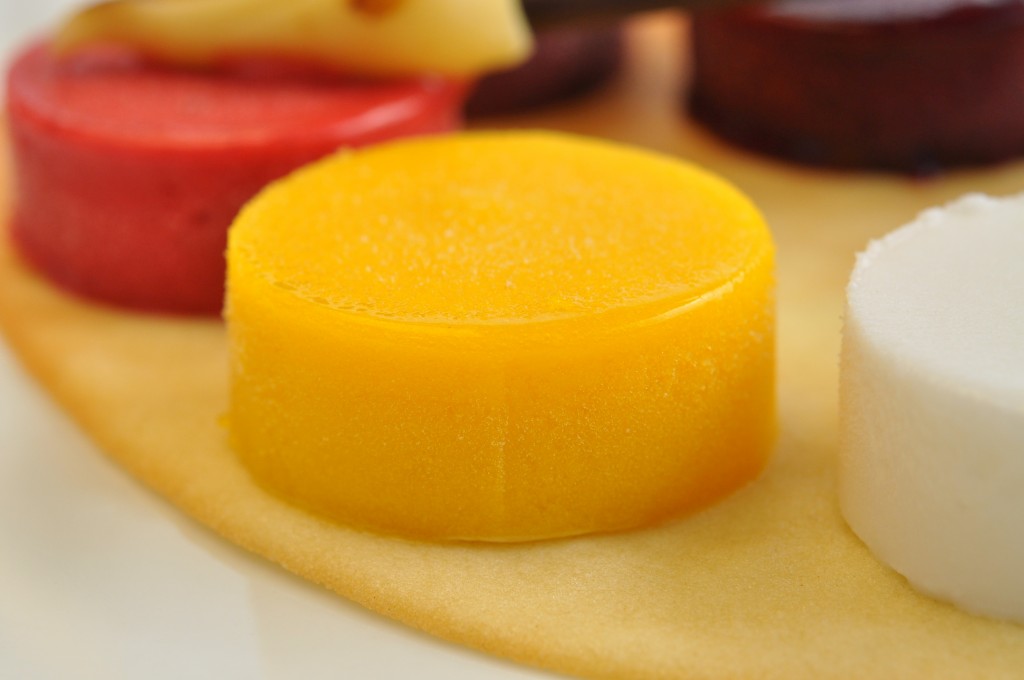 Coconut Sorbet
Yield: 1 quart
Made using frozen coconut puree.
| | | | |
| --- | --- | --- | --- |
| | | | |
| 1 Cup | (8 oz) | Water | 240 g |
| 6 Tbsp | (3 oz) | Extra fine granulated sugar | 90 g |
| 1 teaspoon | (0.1 oz) | Apple pectin or ice cream stabilizer | 3 g |
| ¼ Cup | (2 oz) | Invert sugar (Trimoline) | 60 g |
| 16.5 0z | (16.5 oz) | Coconut puree | 500 g |
| | | | |
| ¼ Cup | (1oz) | Toasted unsweetened coconut | 30 g |
| | | | |
Pour water in a saucepan, combine the sugar and pectin very well and whisk into the water. Add the invert sugar and bring to a boil.
Cover and refrigerate preferably overnight.
Combine the syrup with the coconut puree and toasted coconut and churn in ice cream machine according to manufactures instructions.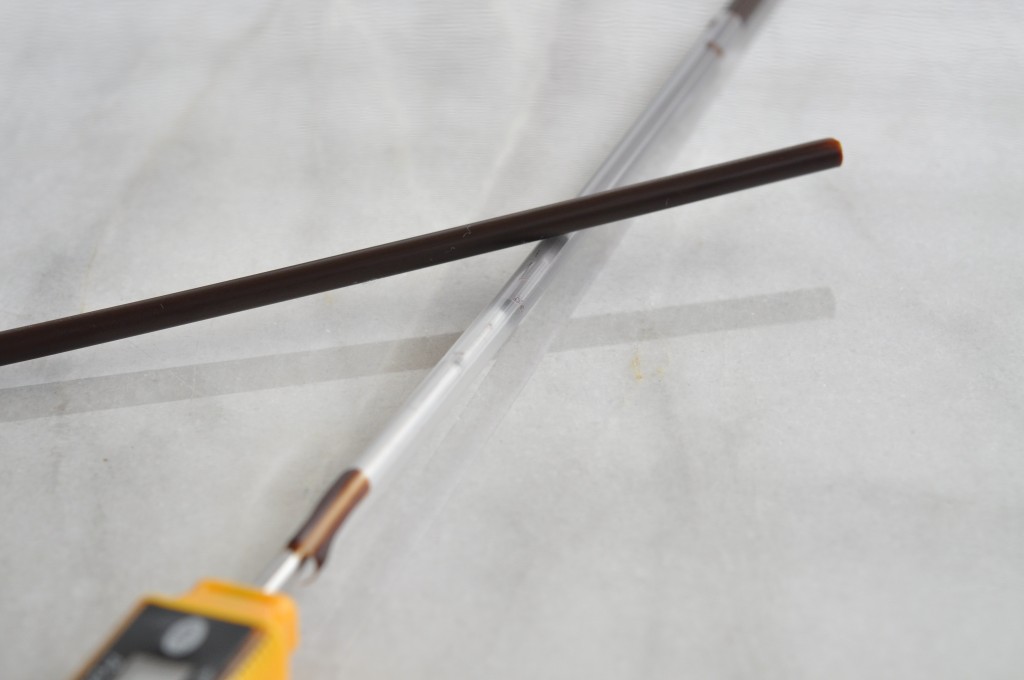 Tulip batter-tuile batter
Yield: 16 oz
| | | | |
| --- | --- | --- | --- |
| | | | |
| 1 stick | (4 oz) | Unsalted butter | 120 g |
| ½ Cup | (4 oz) | Extra fine granulated sugar | 120 g |
| ½ Cup | (4 oz) | Egg whites | 120 g |
| 1teaspoon | (1 tsp) | Vanilla extract | 5 g |
| ¼ teaspoon | ( ¼ tsp) | salt | 1 g |
| | | | |
| 1Cup | (4oz) | Pastry or bread flour | 120 g |
| | | | |
Cream the butter and add the sugar.
Add one fourth of the egg whites followed by vanilla and salt.
Alternately add the remaining egg whites with flour until all combined.
Stencil and bake at 400°F (200°C) for just a few minutes until golden brown.