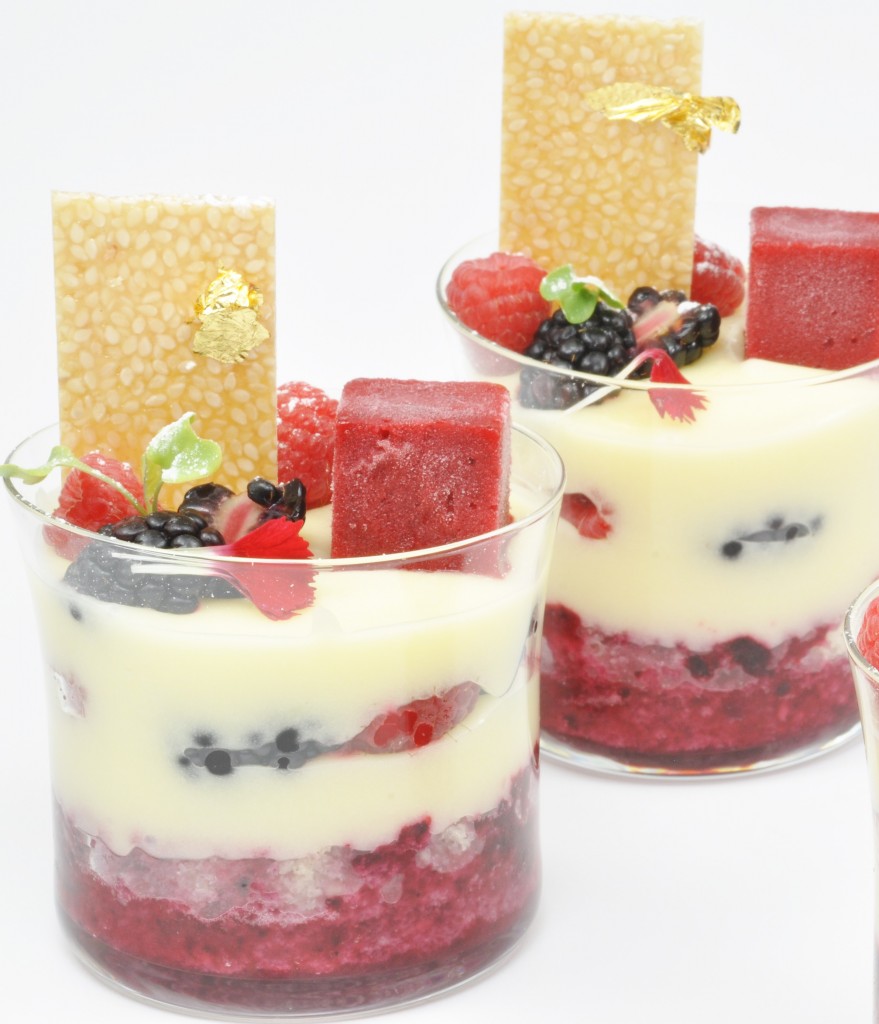 For plated desserts I very much make sure that the various elements are not too scattered, preventing the consumer of having to "work" at the dessert (Ensuring that every bite has a good balance). Most of us like desserts which are multi layered with zero effort during the consumption. For example take an éclair. The perfect layering and understated elegance is the reason why I believe it is a classic worldwide. Desserts in a glass (or verrine) can be perfectly balanced as well and are also very easy to consume. The components consisting of a little crunch, something soft, something smooth, textures of fruit, a touch of sorbet, all coming together in one and all the consumer has to do is dig in with a spoon. Another major benefit to a dessert in a glass is that the creams, curds etc it contains, can be made with none or little gelatin or other thickeners. It's fair to say that everyone prefers soft, creamy fillings over firmer gelatinized ones.
This lime curd is one of my personal favorites. It does not require a long cooking time over a double boiler and has a silky smooth texture.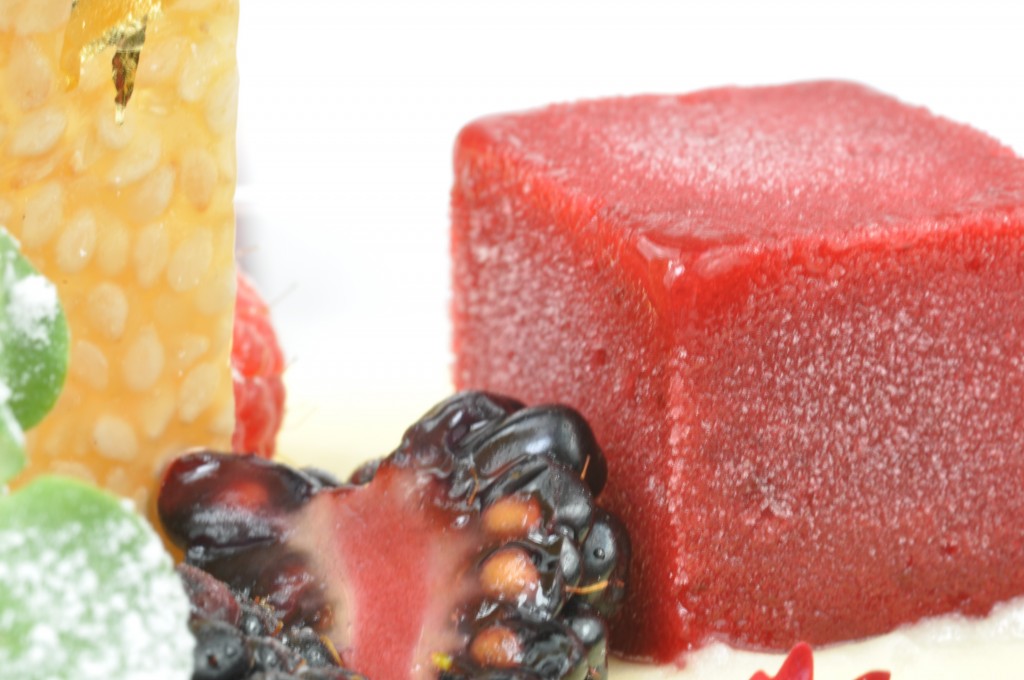 Assembly
Place a round disk of genoise or sponge cake on the bottom of the glass.
Moisten the cake generously with raspberry liquor flavored simple syrup.
Cover with a small amount of lime curd and sprinkle with fresh berries and sesame seed nou gatine.
Cover with remaining curd and allow to set for a few hours. Decorate with berries, sesame seed nougatine and raspberry sorbet.
Quick Lime Curd | Quick lemon curd
This recipe is from On Baking and is published with permission from Pearson prentice Hall
We featured this curd in the first edition of On Baking and remains one of my favorite recipes. It is quick to make and has a good balance of sweet and sour. For a less sour taste reduce the fruit juice and replace with water.
Yield: 1 lb 4 oz (619 g) About 8 glasses. If used for a lime or lemon tart it makes enough for a 9 inch (22 cm) European style tart ring)
| | | | |
| --- | --- | --- | --- |
| | | | |
| ½ cup | 4 oz | Lime or lemon juice | 120 g |
| ¾ cup + 1 tbsp | 6.5 oz | Extra fine granulated sugar | 195 g |
| 2 teaspoons | 0.14 oz | zest | 4 g |
| 2 large | 4 oz | Eggs | 120 g |
| 1.5 sticks | 6 oz | Unsalted butter, very soft | 180 g |
| | | | |
| | | | |
| | | | |
| | | | |
| | | | |
| | | | |
| | | | |
| | | | |
Bring the fruit juice with half the sugar to a boil.
Meanwhile in a bowl whisk the eggs with the remaining sugar until well combined but not mixed to a thick ribbon.
Temper the egg mixture with a third of the boiling above. Pour the tempered mixture into the boiling juice and whisk vigorously until boiling and thickened, about a minute. (For large batches increase the boiling time)
Remove from heat and cool on an ice bath to 120°F (50°C)
Add the butter in increments, stirring well with a spatula or add the butter using an immersion blender.
Use immediately in glasses, tart shells etc.