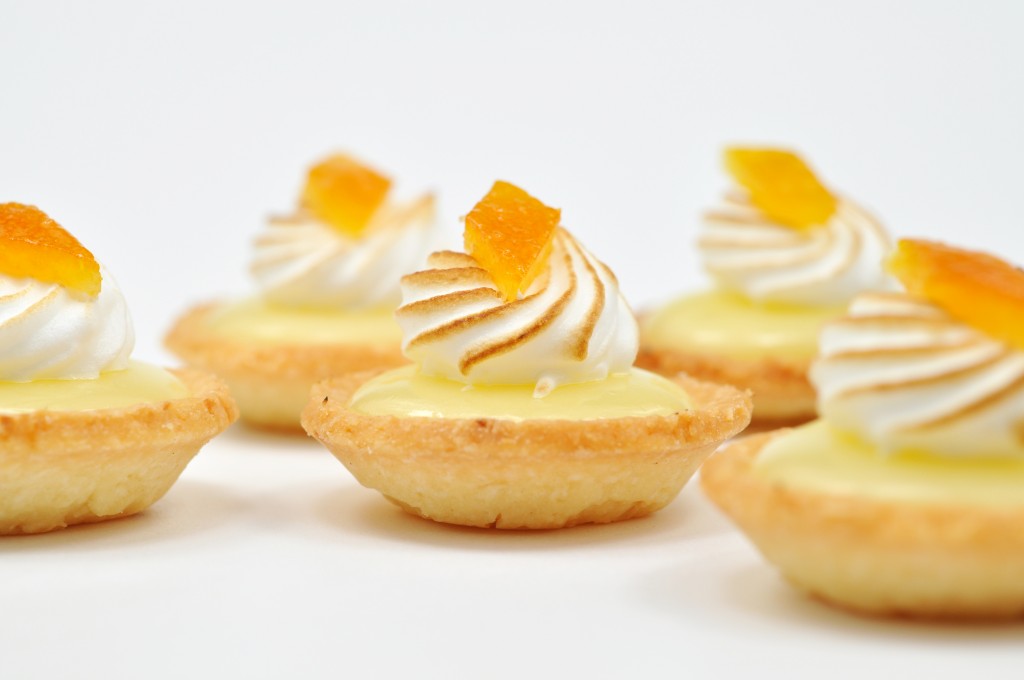 Serving Petit fours are often more complicated than one would believe. How they will be served is just one of the issues. At a cocktail party where the guest usually have a beverage in one hand, it is important to keep in mind that they have little opportunity to fuss with forks, spoons, napkins etc. Having a guest reach into petit four which makes their fingers a sticky mess is not professional. Such items are best served on a spoon or specialty vessel. Flavor is also very important, during parties people often take a petit four from a platter without asking the server what flavor profile it is. Therefore selecting flavors which satisfy a broad audience is usually not a bad idea. Petit fours made with flavors which are unique or not appreciated by most can always be presented with a name card.
Preparing miniatures from classics is always a safe bet since people are familiar with them and know what to expect. One such is featured here as a lemon tart petit four made with a touch of candied orange peel.  A true classic which is still as delicious as it became popular in the 19th century.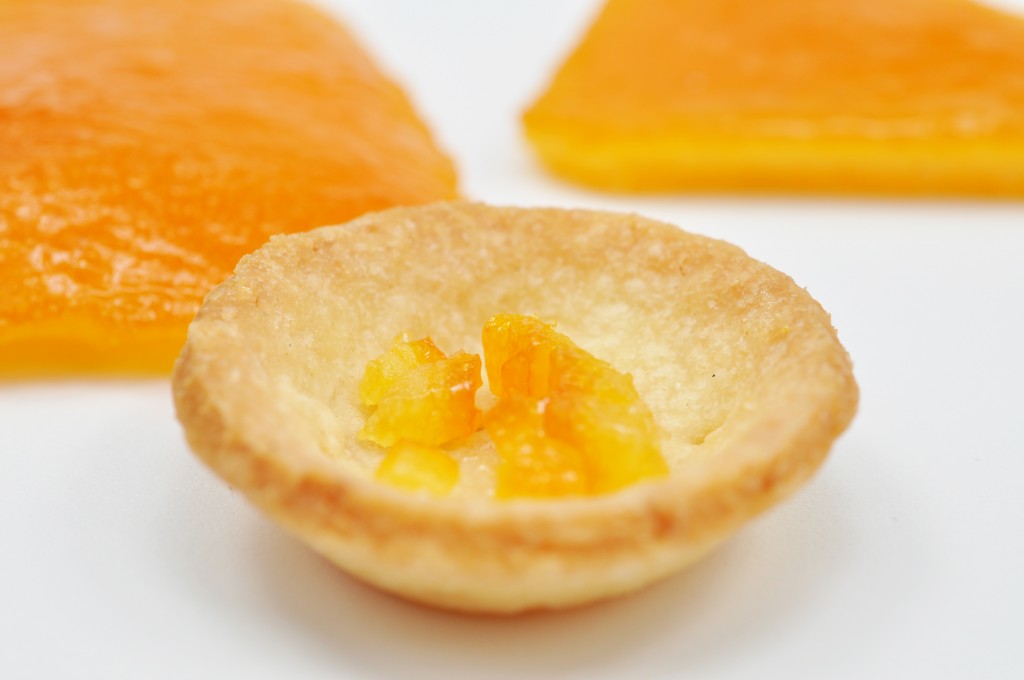 Getting It All Together!
Recipe for the coconut tart dough: On Baking pg 389. Recipe for lemon curd: On Baking pg 503. For the miniature tart shells it is very important to roll the dough rather thin, 2 mm is a maximum. The coconut dough has a nice rise in the oven and making it any thicker makes for an unbalanced ratio of crust to filling. Tart shells can always be made and baked in advance and be frozen. When ready to fill place in a preheated oven for a few minutes to crisp up the shells.
Roll out the coconut tart dough and cut circles slightly larger than the tart shells. Press the dough into the shell and prick with a fork.
Bake in a 375°F (190°C) oven until light golden.
When cooled sprinkle a few pieces of candied orange peel on the bottom of each tart shell. Fill with the lemon curd. Let cool.
Pipe Italian Meringue on the surface and brown with a torch. Decorate with candied orange peel or as desired.