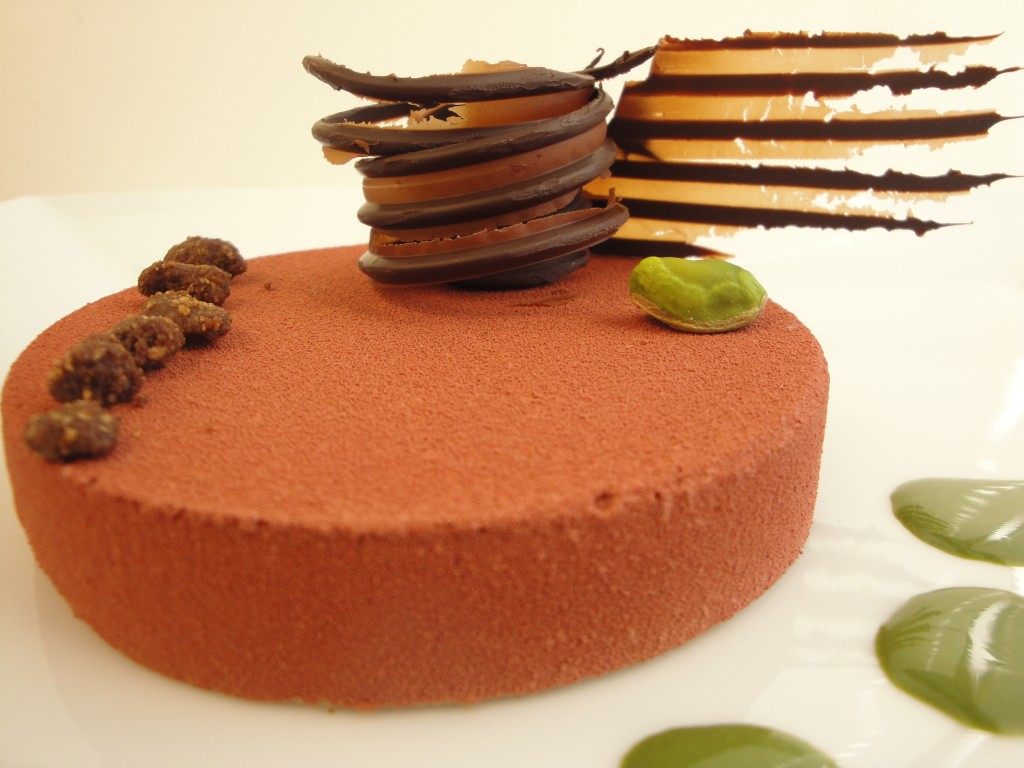 Perfect dark chocolate mousse
When I visualize a great chocolate mousse it holds certain characteristics. For example, a perfect chocolate mousse should be creamy and smooth and not leave a kind of dryness on the roof of your mouth. In fact it should spoon very easily without being too firm and melt very nicely away on our tongue. It also needs to be light in consistency, too much fat can make the mousse heavy and simply too rich. After eating a serving of chocolate mousse we should not feel "Full", but rather satisfied.
In terms of chocolate flavor strength, it oftentimes depends on what else is being served with the chocolate mousse. If a rather sweet mango coulis or sorbet is served along with the mousse, then it is important to ensure that the mousse is made with a chocolate containing a higher amount of cocoa mass. If you are serving the chocolate mousse in a verrine with a bittersweet chocolate sauce then choosing a less bitter chocolate may be the better choice.
Having said that, when you use for example this recipe for chocolate mousse, but instead of using chocolate containing 65% cocoa mass, you use one of 70% or 75%. (And everything else in the recipe was unchanged) You will end up with more than just a stronger chocolate flavor. In fact, more cocoa mass in chocolate means less sugar which translates into a less moistening from sugar. So the mousse will have a firmer set and be less creamy.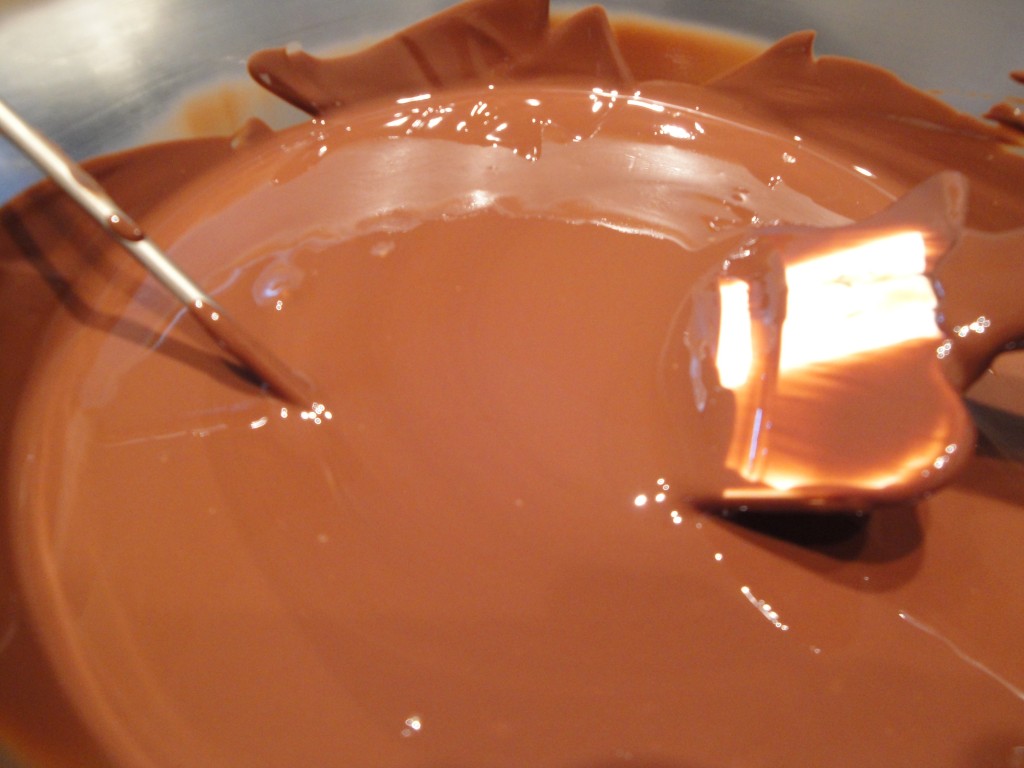 Chocolate mousse can be made many ways. With a Bombe batter, Italian meringue, pasteurized egg whites or a Crème Anglaise.  For certain applications I like to use a specific method. This featured chocolate mousse is one I like when eaten very simply by itself in a verrine or glass. It is made using both a Bombe batter and an Italian meringue and utilizing both makes the mousse particularly good for this use.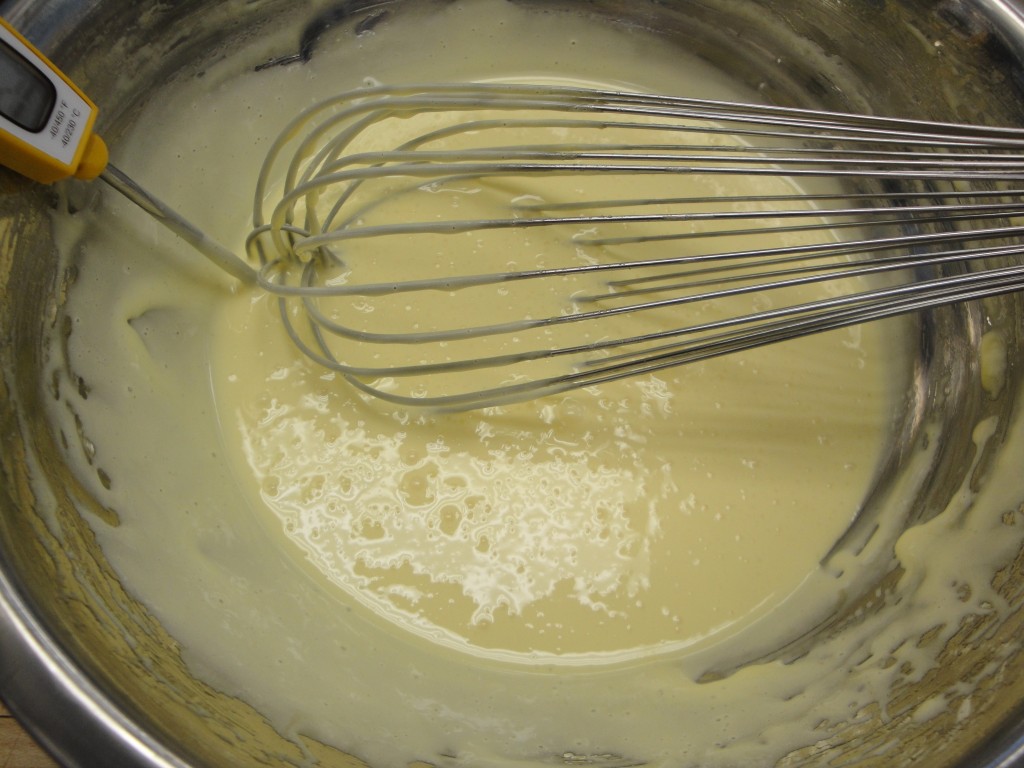 Some Pastry Chefs may not agree, but I like to use couverture chocolate when making chocolate mousse. I formulate based on couverture chocolate, I prefer the result. Of paramount importance when making good chocolate mousse is ensuring that the temperatures are right. When melted chocolate is mixed with the other ingredients it needs to be done at correct temperatures. If the melted chocolate is too cold when the other ingredients are incorporated, it will result in a heavy and very undesirable mousse. Chocolate mousse starts to set or begins to crystallize below 85°F (29°C), therefore it is important to ensure that the chocolate is at the right temperature. If not, the ingredients will not homogenize properly and the mousse will be heavy, crystallize or set prematurely before it is deposited in the ring, verrine, silicone mold….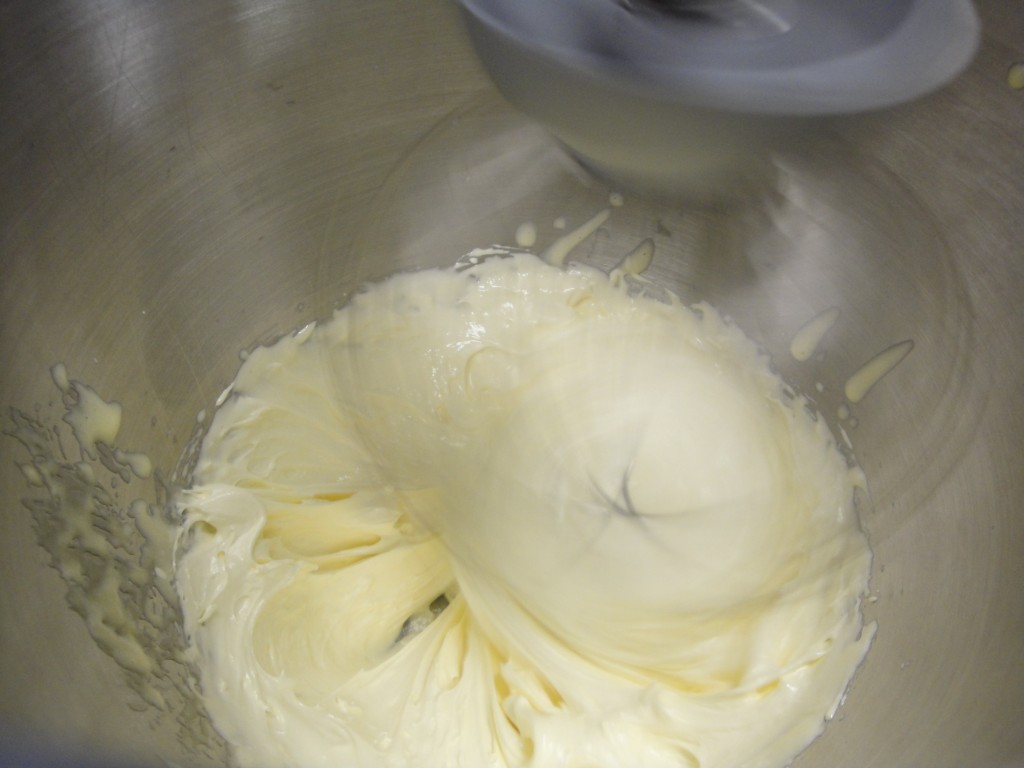 Whipping cream is another very important part of a successful chocolate mousse. Oftentimes we think that a higher fat content cream means a more stable mousse. Perhaps during storage, but during the folding process it translates into damage to the air cells. A cream with a fat percentage of 34-36% is ideal.  Always whipped to a very soft consistency, I do not like to say to say "soft peaks" because often, soft peaks turn into over whipped peaks….. Any cream which is over whipped and used in a mousse turns into a less then desired product.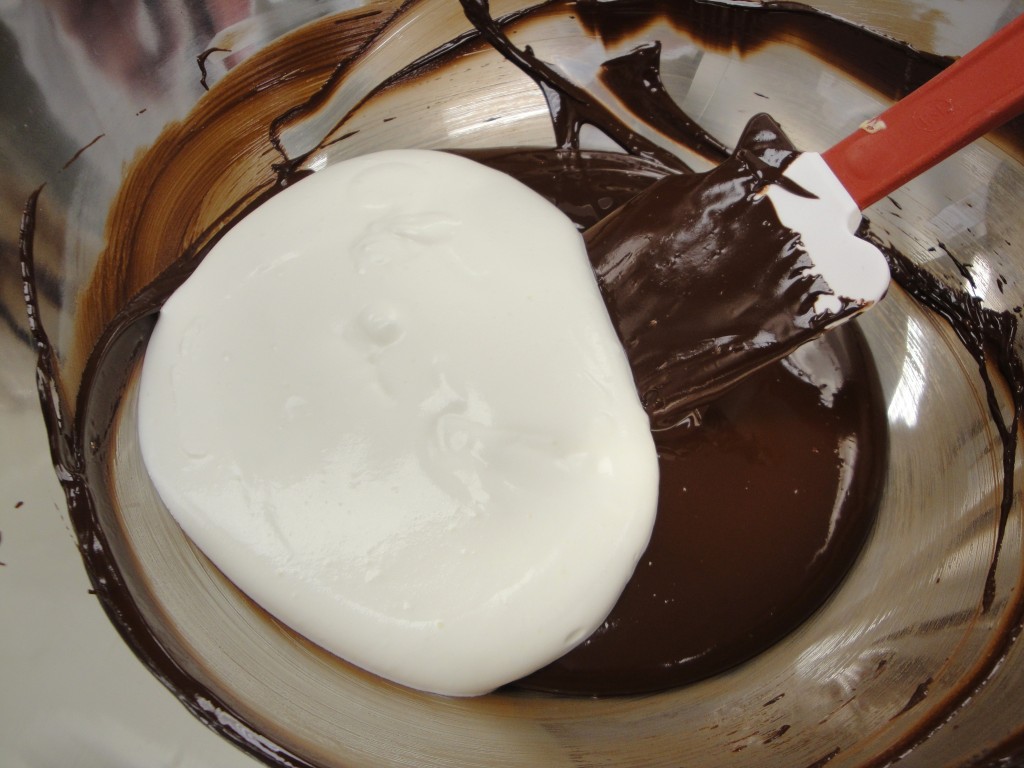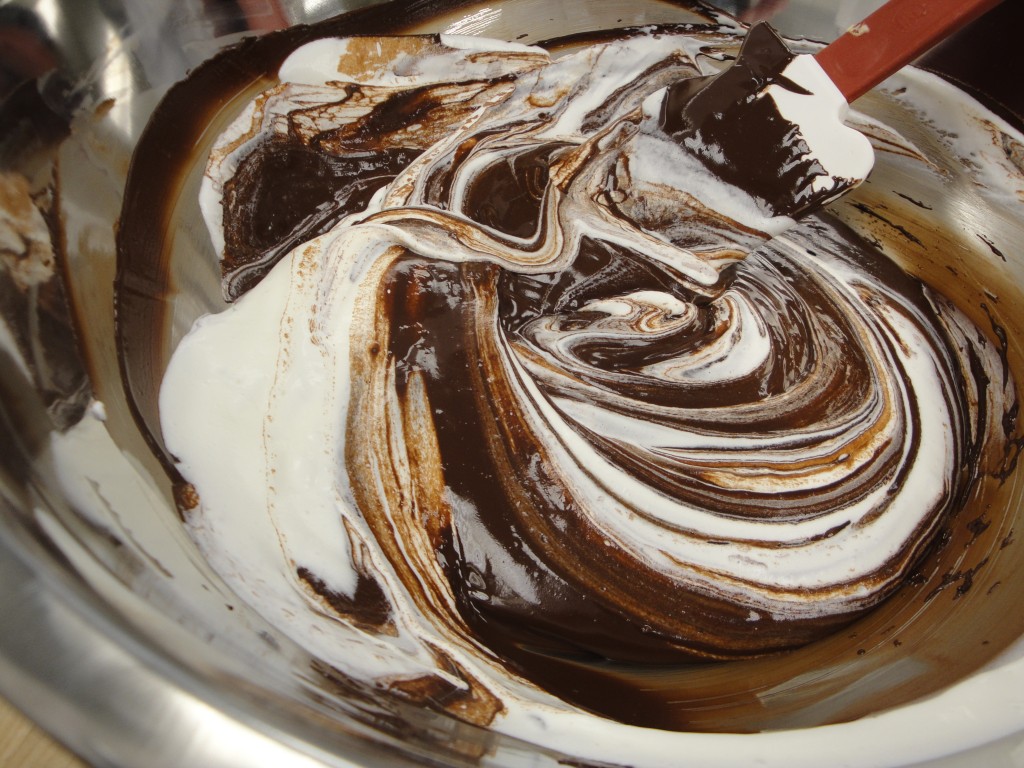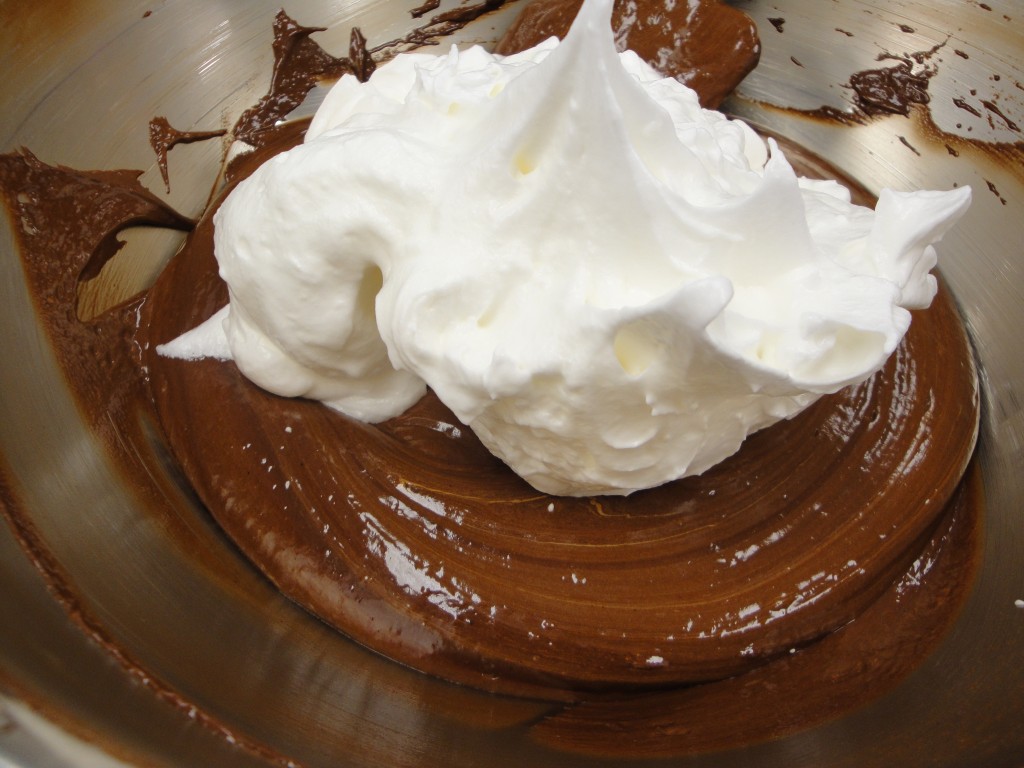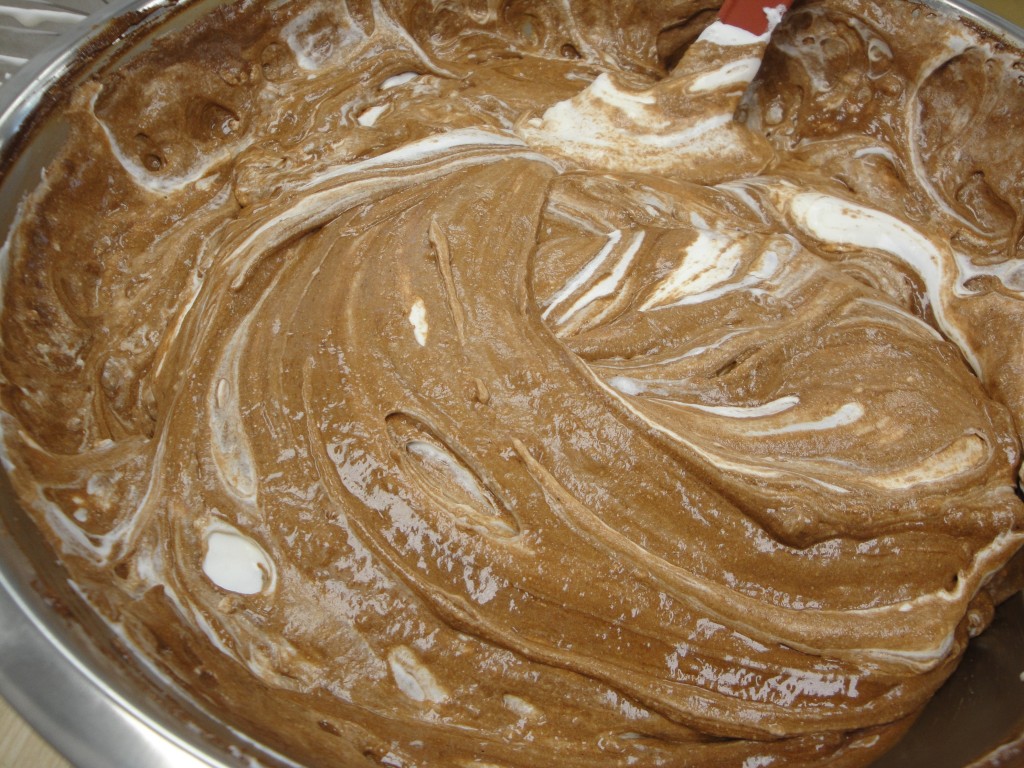 Dark Chocolate Mousse
| | | | |
| --- | --- | --- | --- |
| 16 oz | (16 oz) | Bittersweet chocolate couverture(64% cocoa) | 480 g |
| ½ stick | (2 oz) | Unsalted butter | 60 g |
| 9 | (9) | Large egg yolks | 9 |
| ¾ Cup | (6 oz) | Extra fine granulated sugar (a) | 180 g |
| 9 | (9) | Large egg whites | 9 |
|   |   |   |   |
|   |   |   |   |
| 1 ¼ Cup | (10 oz) | Extra fine granulated sugar (b) | 300 g |
| ½ Cup | (4oz) | Water | 120 ml |
|   |   |   |   |
|   |   |   |   |
| 2 Cups | (16 oz) | Whipping cream (34-36% fat, whipped to a very soft peak consistency) | 480 ml |
|   |   |   |   |
|   |   |   |   |
|   |   |   |   |
|   |   |   |   |
|   |   |   |   |
|   |   |   |   |
|   |   |   |   |
|   |   |   |   |
|   |   |   |   |
|   |   |   |   |
|   |   |   |   |
In a bowl melt the chocolate and butter over Bain Marie or microwave oven to 135°F (57°C), Hold at this temperature in water bath and set aside.
Fill a saucepan with a small amount of water and bring to a boil and then turn to a low simmer.  In a bowl whisk together the egg yolks and sugar (a) and whisk well. Place the bowl over the simmering water and whisk constantly until the yolk mixture reaches at least 165°F (74°C).
Remove from heat and whip until lukewarm, about 95°F (35°C)
Meanwhile make the meringue, place the egg whites in a machine bowl fitted with a whip. Set aside.
In a small saucepan combine the granulated sugar and water and bring to a boil. Once boiling wash away any sugar crystals stuck to the side of the pan using a brush dipped in water. Any added amount of water will have no effect on the outcome.
Boil without stirring to 244°F (118°C). A few degrees before the syrup reaches it required temperature start whipping the egg whites in medium speed. When the syrup is at its required temperature, pour it immediately along the edge of the bowl avoiding pouring syrup on the whip.
Whip until the meringue measures about 86°F (30°C), remove from machine.
Recheck the temperature of the melted chocolate and reheat if necessary. Add one fourth of the whipped cream to the chocolate and whisk into a ganache.
Immediately add and fold in the bombe batter. Add and fold in to meringue in increments. (re-creaming the meringue right before it is being added is essential)
Gently fold in the soft whipped cream and immediately fill into the molds, rings, verrines….