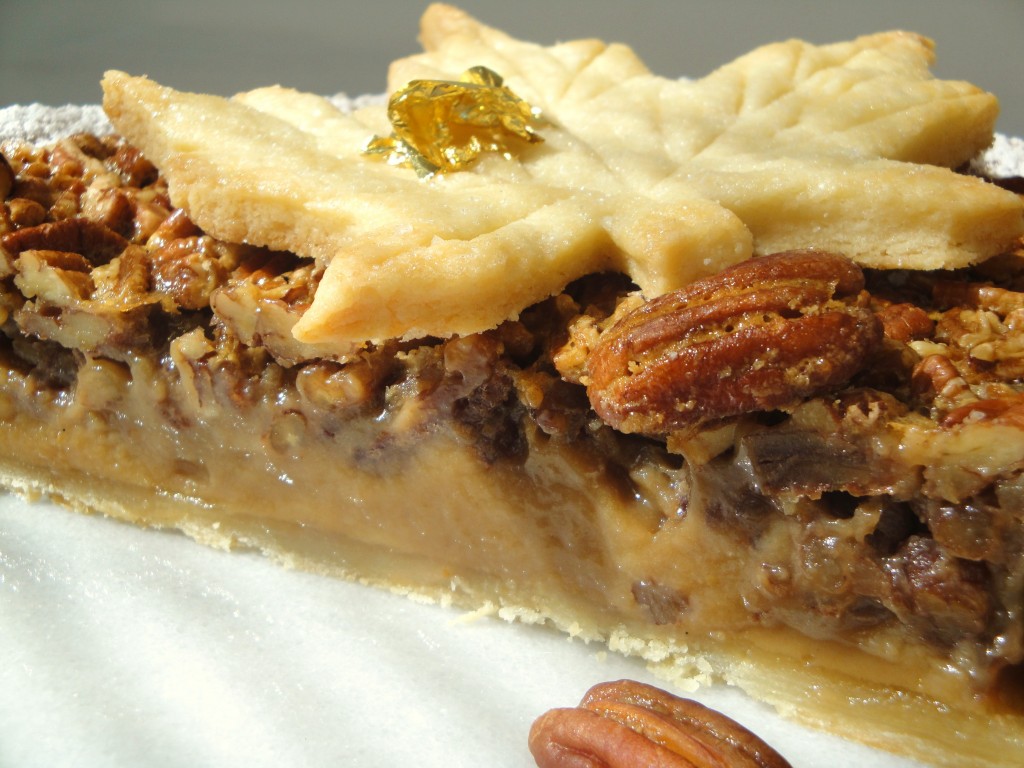 Pecan Pie, corn syrup free
It was not until I arrived in America that I became familiar with pecan pies. In Belgium they simply are not known. Pecan pies have now become one of my favorite desserts and when I visit my family in Europe, it is one of the pies they always request I make.
For many years I made pecan pies but I felt that they were really never as good as they possibly could be. I would add chocolate to cut the tooth achingly sweetness which did made it better, but then you have pecan pie purist, who believe a good pecan pie contains absolutely no chocolate! Oh no.
The biggest recipe request I consistently have (Another one is a moist white cake from scratch) is for a pecan pie which is not overly sweet. Clearly it was time for me to get in the kitchen and get serious about replacing corn syrup in pecan pies. From lots of experience I have discovered that substituting is, well, usually just a substitute. Has anyone out there ever had a diet version of something, which was actually better than the original? Me neither. But is replacing corn syrup in a pecan pie actually a substitute? Were the first pecan pies made by French settlers in Louisiana actually not made with pure sugar? With this bit of history knowledge I decided to check out original pecan pie versions and I began to work on pecan pie recipes the way they used to be made, smooth and custardy with delicious caramel flavor and made with real sugar.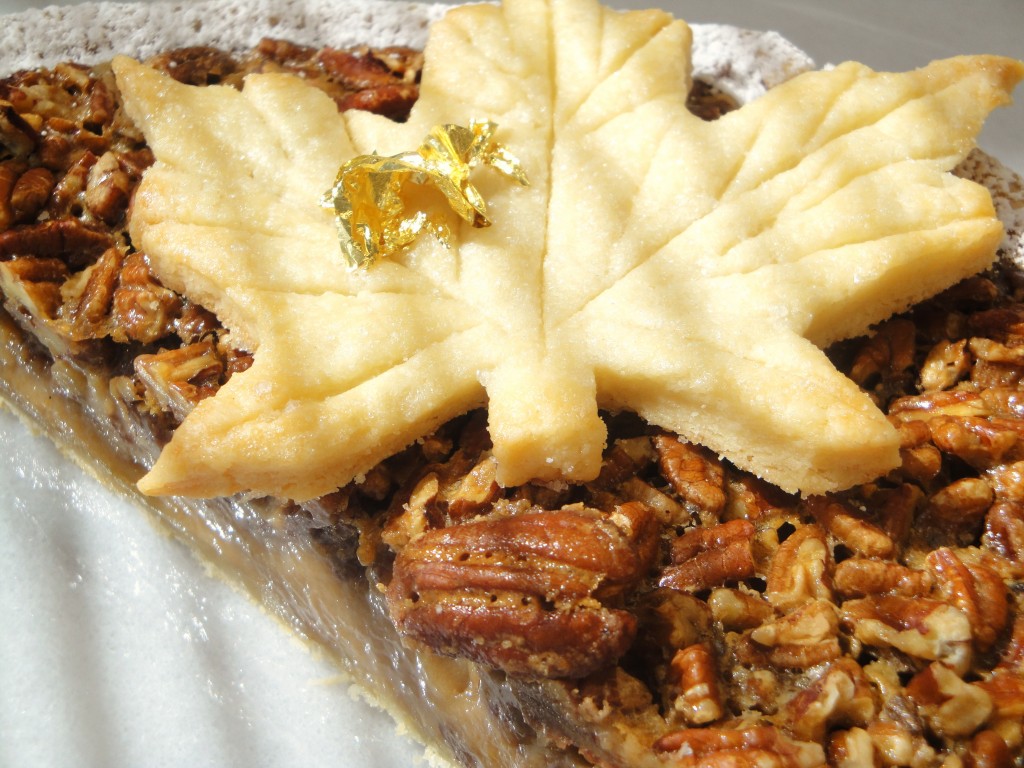 Some people like to toast pecans destined for pecan pies which certainly adds another dimension to the flavor profile. It really is up to you if you prefer toasted pecans or not. A touch of Brandy or Rum will make the pie just a touch more special. This pecan pie does not contain flour for a couple of reasons. Flour takes away from the creamy smoothness and makes the pecan filling somewhat chunky. Pecan pie filling is essentially a type of custard which should be velvety and nicely flavored. Flour containing custards tend to create a cloudy coating on our tongue, which inhibits full flavor revealing.
Getting it all together!
You can easily make your pie dough, roll it out and line your pie shells and then freeze for up to a week or two. Similar like the ones you would buy in the freezer section of your grocery store. Take out the freezer the day when needed and make the filling. If you like the flavor of toasted pecans, place the pecans in a 350°F (175°C) oven until they are fragrant. Time will depend on the size of the pecan pieces.
Pecan pie, without corn syrup
Yield: 1- 9 inch pie
| | | | |
| --- | --- | --- | --- |
| 3 | (3) | Large eggs | 3 |
| ¾ Cup | (6 oz) | Water | 180 g |
| 1 ¾  Cup, well packed | (14 oz) | Medium brown sugar | 420 g |
| | | | |
| ½ teaspoon | ( ½ tsp) | Salt | 2.5 g |
| ½ Stick | (2 oz) | Unsalted butter | 60 g |
| | | | |
| | | | |
| | | | |
| 1 Tablespoon | (0.5 oz) | Brandy or Rum (optional) | 15 ml |
| | | | |
| | | | |
| 2 teaspoon | (2 tsp) | Vanilla extract | 10 ml |
| 2 Cups | (8 oz) | Pecan pieces | 240 g |
| | | | |
| | | | |
Preheat the oven to 400°F (200°C).
Whisk together the eggs and water until very well blended. Add the brown sugar and salt. Melt the butter and add to the mixture. Add the Brandy and vanilla extract.
Place the pecans in the pie shell and pour the custard filling over the pecans, the pecans will automatically float to the surface. Since nine inch pie shells vary in depth and thus volume, not all the custard filling may fit.  By not mixing the pecans into the custard filling you will possibly prevent throwing away extra custard filling containing pecans.
Place in the preheated oven for 10 minutes. Then reduce the temperature to 325°F (160°C) and bake until the center of the pie is set and no longer trembles when touched, about 65 minutes.