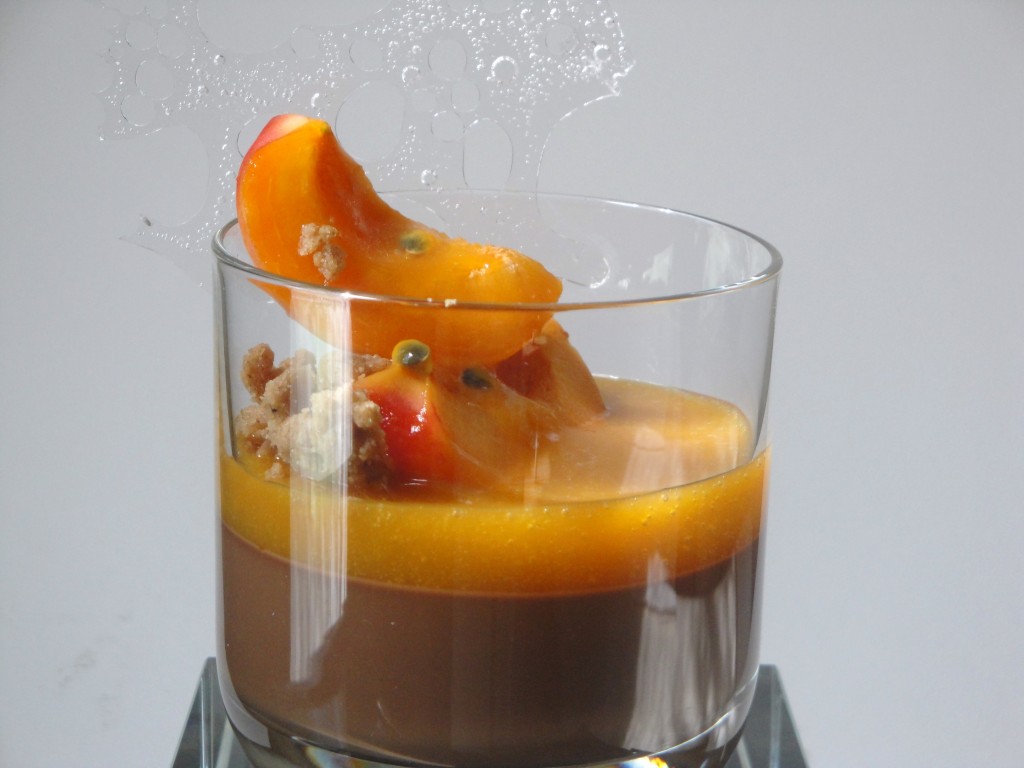 During the summer months, ripe, delicious apricots are always part of our fruit intake. After all, the rule at our house is eating a minimum of 5 fruits and vegetables a day. Apricots are superb dipped in dark chocolate with a cocoa content between 55%-64%. At that cocoa content range, you can still taste the full acidic sweetness of the dried apricots. Dried apricots are fantastic in bringing out the fruity flavor notes of chocolate. Turns out, the combination is a healthy one as well. Dried apricots are high in fiber and carotenoids plus as a bonus, you get the high antioxidant level of chocolate. Certainly you already knew this, but it good to read it once again that carotenoids are antioxidants which help to protect us against cancer, heart disease and bad cholesterol.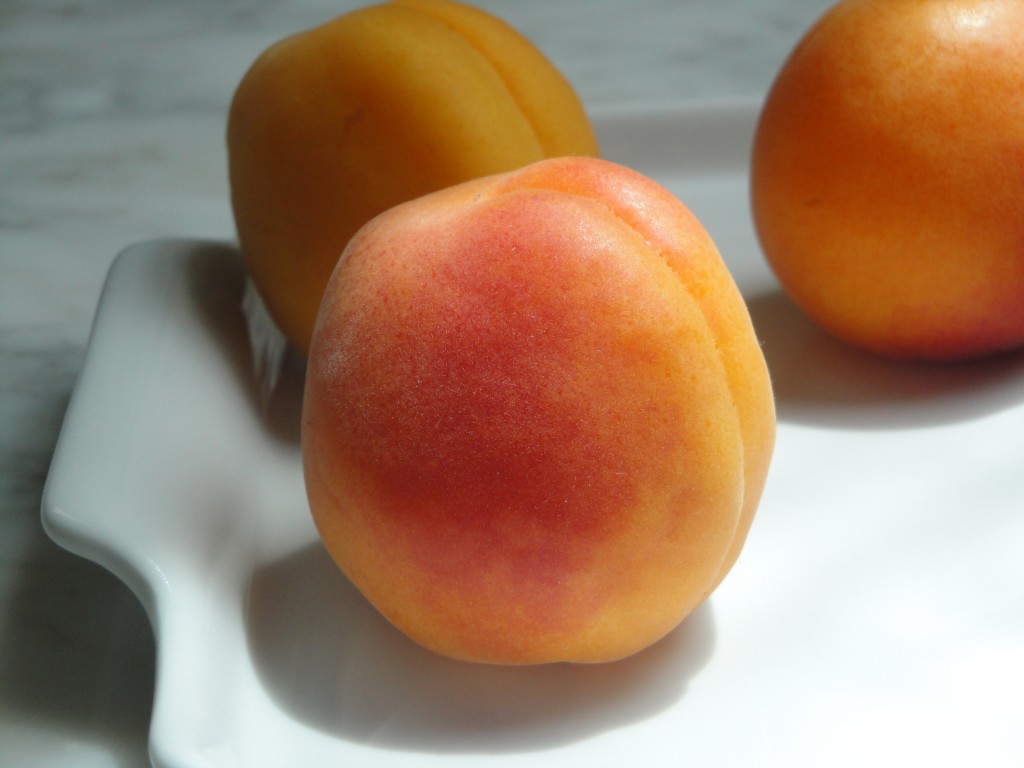 When we entertain in the summertime, we often lean towards serving savory tarts with salads and cheeses. It's easy since you can make most of it ahead of time and it has a picnic-French bistro style kind of feel to it. To finish the meal, I serve baked apricot tarts, sprinkled with some unsalted pistachios and a touch of cream. There simply explosive in the mouth. It's the type of dessert that not that many people are familiar with. Perhaps turned off a little by the burned tips of the apricots, so everyone always asks for "A small piece for me-I'm so full…." Yet then everyone always asks for seconds….
Silky, smooth chocolate crémeux with apricot coulis is simply explosive on the taste buds as well. For the recipe below it is important to use chocolate with the correct amount of cocoa content. Between 60% and 65% is good. If you go higher than those numbers, nuances of the apricot coulis may get lost. You do not want to use chocolate chips, regardless of their cocoa content. The low content of cocoa butter in chocolate chips will interfere with composing a smooth and creamy chocolate crémeux.
Getting it all together!
Get started by making the crémeux and pour it in the glasses. You can do this a day ahead. To make it right, you will need a digital thermometer, if you do not have one, you will have to start by going to the store first! Place the crémeux well wrapped in the refrigerator since chocolate products easily absorb refrigerator scents. You can easily do this a day ahead. For the apricot coulis select ripe apricots and puree those until very smooth. Add more sugar if needed. For an extra dimension I always like to add a splash of Apricot liquor or Kirsch. You can also do this a day ahead and store in the refrigerator. The crumble is optional but very good if you like a touch of a crunch. Find the crumble recipe in the recipe archive at "Figs with Mascarpone". Crumbling some butter cookies can also do the job. When you are ready to serve, spoon some apricot coulis on top of the crémeux, place some apricot quarters in the glass and sprinkle with some crumble topping.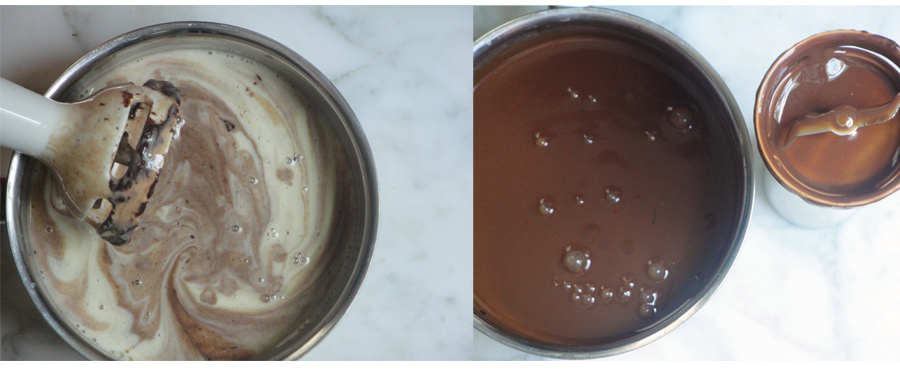 Chocolate crémeux
Yield: up to 6 servings
| | | | |
| --- | --- | --- | --- |
| ½ Cup | (4 oz) | Heavy cream | 120g |
| 1 cup | (8 oz) | Milk | 240g |
| 3 | 3 | Egg yolk | 3 |
| 6 Tablespoon | (3 oz) | Extra fine granulated sugar | 90 g |
| 6 oz | (6 oz) | Dark chocolate 60-65% cocoa content | 180 g |
| | | | |
1. Pay close attention to the method and temperatures or you will end up with a curdled mess!
2. Bring the cream, milk and about half of sugar to a boil in a small saucepan. Meanwhile in a bowl, whisk the egg yolk smooth and very rapidly whisk in the remaining sugar. Make sure no egg yolk and sugar lumps are still visible.
3. Pour a quarter of the boiling milk into the egg yolk mixture and whisk quickly. Pour the tempered egg mixture into the heated milk and on low heat stir the mixture to 183⁰F (81⁰C) while CONSTANTLY stirring using a rubber spatula. Remove from heat and pour into another bowl to stop the cooking process.
4. Add the chocolate and using an immersion blender or whisk make the mixture smooth. Pour into glasses and place covered in a refrigerator.
Apricot Coulis
Yield: up to 6 servings
| | | | |
| --- | --- | --- | --- |
| 6 | 6 | Apricots, ripe | 6 |
| 1/4 cup | (2 oz) | Extra fine granulated sugar | 60 g |
| 1-2 Tablespoon | (1/2 oz -1 oz) | Apricot or Kirsch Liquor | 15-30 g |
| 1 | 1 | Passion fruit, optional | 1 |
| | | | |
Combine the apricots, sugar and liquor in a pitcher and blend smooth using an immersion blender. If the apricots are meaty and refuse to come to a puree, add some orange juice or water. Once smooth add the juice and seeds if desired from a passion fruit.
jyfu9v58ci