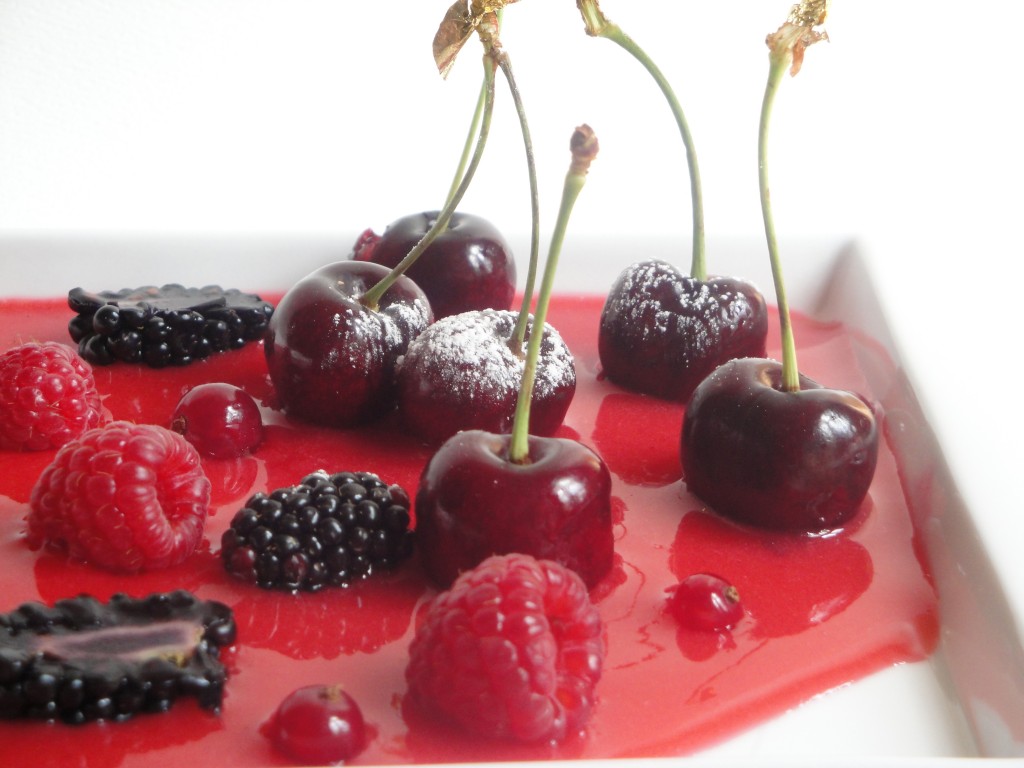 Cherry and Red Berry Soup
Whenever we are hosting a party and cherries are in season, they are a must have item for me. They are elegant and their robust flavor goes well with many drinks and all types of cheeses. Last year I was pitting olives for a party, and I figured, why don't I pit the cherries but keep the stem on? Since then, that's all I do. I lay the cherries on their side in the olive/cherry pitter and push the pit out. This way they are perfect for a party, you still have the stem to lift them of the platter and none of your guests will be uncomfortable dealing with the pit.
For our last party, we had about 7 pounds of cherries (That's a generous 3 kilo-for my European readers) and they were gone in no time. Now be forewarned, when pitting, the juice will splash, so wear an apron. I really like serving cherries, partly because they are delicious and also because there packed with antioxidants. And when it comes down to antioxidants, personally, I can always use more of those. The anthocyanins in cherries is what gives the cherries their deep red color and the anthocyanins are responsible for doing lots of great things in our bodies. For one, they are anti inflammatory and it seems like their anti agers as well.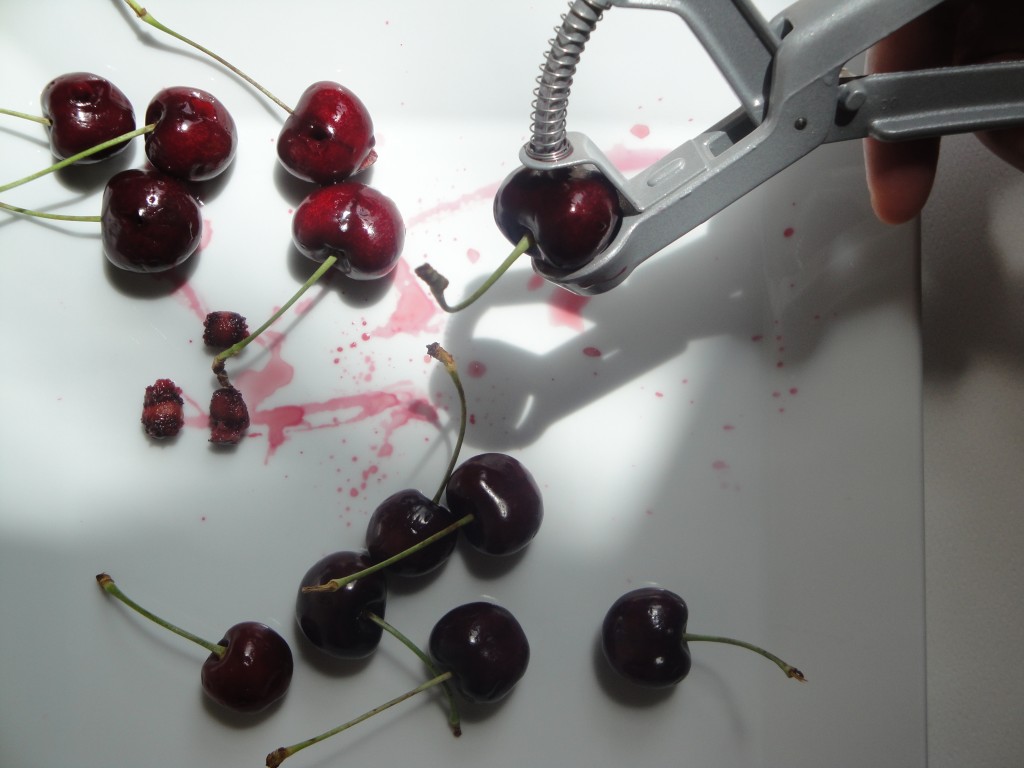 Whenever I use cherries in desserts I have found that bay leaf is a fantastic match. Bay leaves aroma, reminiscent of eucalyptus, floral and pepper notes are something that I very much like. It makes many dishes complex in a very lovely way. In my garden I have a Laurus Nobilis or a Bay Laurel tree that likes its spot very well. Fresh bay leaves are like anything else, they taste fresher. However, for some dishes I do like leaves that have dried a week or so. If you purchase fresh and you want to dry the remaining ones, tie the leaves on some twine and hang upside down in a dark place with some air movement. Using this method, they will stay a beautiful color when dry.
For the cherry and red berry soup below, I make syrup that I infuse with bay leaf. To the cooled infusion I add seedless raspberry puree and a touch of Kirsch liquor. Kirsch, which of course is made from cherries, pairs fantastically, not only with the cherries but with the berries as well.
Getting it all together!
Get started by making the infusion, you can prepare this days ahead. On the day of the serving add the seedless raspberry puree and the Kirsch liquor. Instead of Kirsch you could opt for excellent raspberry liquor. Place this part of the fruit "soup" in the refrigerator. Rinse your fruit that you like to add, excellent choices are indeed cherries, raspberries, blackberries, red or white currants.  You can add the fruit (Excluding the pitted cherries) now to the infusion or at time of serving. Naturally if you add the fruit ahead, the fruit will have a macerated feel in the mouth. When you are ready to serve, ladle the soup onto a plate or in bowls and add the cherries. If you want to add another element but want to remain with a fat free dessert, add a scoop of strawberry or raspberry sorbet. I feel it makes the most flavor impact by keeping it in the red fruit family.  Certainly you can always add a scoop of gelato or ice cream. Either way, your dessert will be a winner!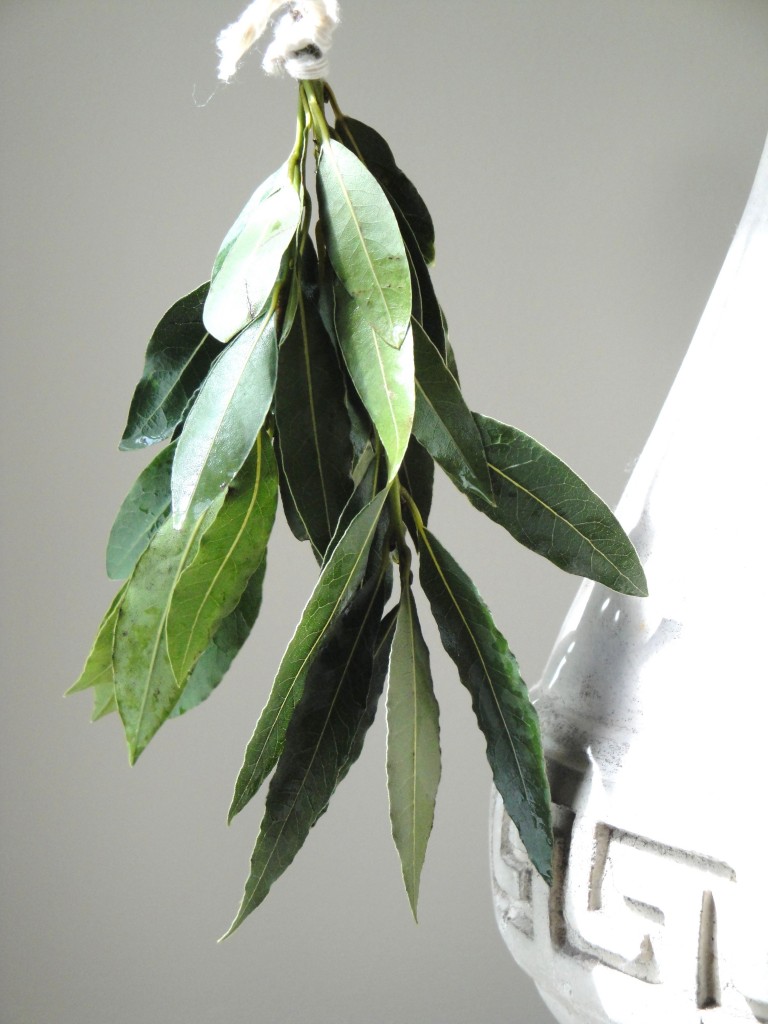 Cherry and Red Berry Soup
Yield:  up to 4 servings
| | | | |
| --- | --- | --- | --- |
| ½ Cup | (4 oz) | Extra fine granulated sugar | 120g |
| ½ cup | (4 oz) | Mineral or spring water | 120g |
| 1 | 1 | Vanilla bean | 1 |
| 1 | 1 | Medium bay leaf | 1 |
| 1 package | (6 oz) | Raspberries, for puree | 180 g |
| 1 Tablespoon | (0.5 oz) | Kirsch | 15 g |
| 20-24 | 20-24 | Cherries | 20-24 |
| ½ package | (3 oz) | Raspberries | 90 g |
| ½ package | (3 oz) | Blackberries | 90 g |
| ½ package | (3 oz) | Red currants or blueberries | 90 g |
Bring the sugar and water to a boil. Meanwhile scrape as many seeds as possible out the vanilla bean. Remove the boiled syrup from the heat and add the vanilla bean seeds along with the vanilla bean and the bay leaf. Cover and let cool.
Puree the first package of raspberries and push thru a fine sieve. Add the puree and the Kirsch to the cooled infusion. Pit the cherries and place covered in a bowl in the refrigerator. If desired the berries can now be added to the soup, or at time of serving.
Pour the soup into a bowl or on plates.